HUGE Christmas Stocking Printable Decor
This HUGE Christmas Stocking Printable is a fun way to decorate for my very favorite holiday!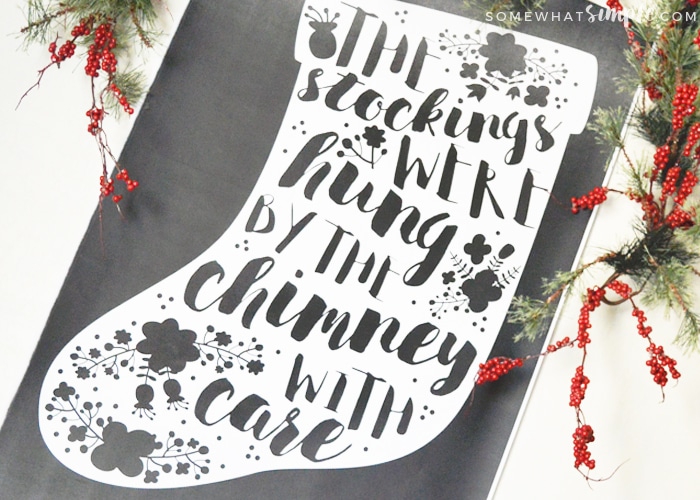 Are you guys familiar with Engineer prints that you can get suuuuuuuper cheap from online office supply stores? It is my new favorite way to print oversized black and white printables for CHEAP!
UPDATE –
I use to be a big fan of printing my engineer prints from Staples, but the Staples closest to me no longer offers this service. I've seen that both FedEx Office and Office Depot offer these services, but I personally have yet to try them. FedEx's black and white engineer prints are very affordable, but their colored versions seemed pricey. If you have a favorite online shop for engineer prints, please let me know in the comment section below.
This fun stocking printable will add a festive touch to your Christmas decor! Just print it + frame it and enjoy it the entire Christmas season! Here is how to do it: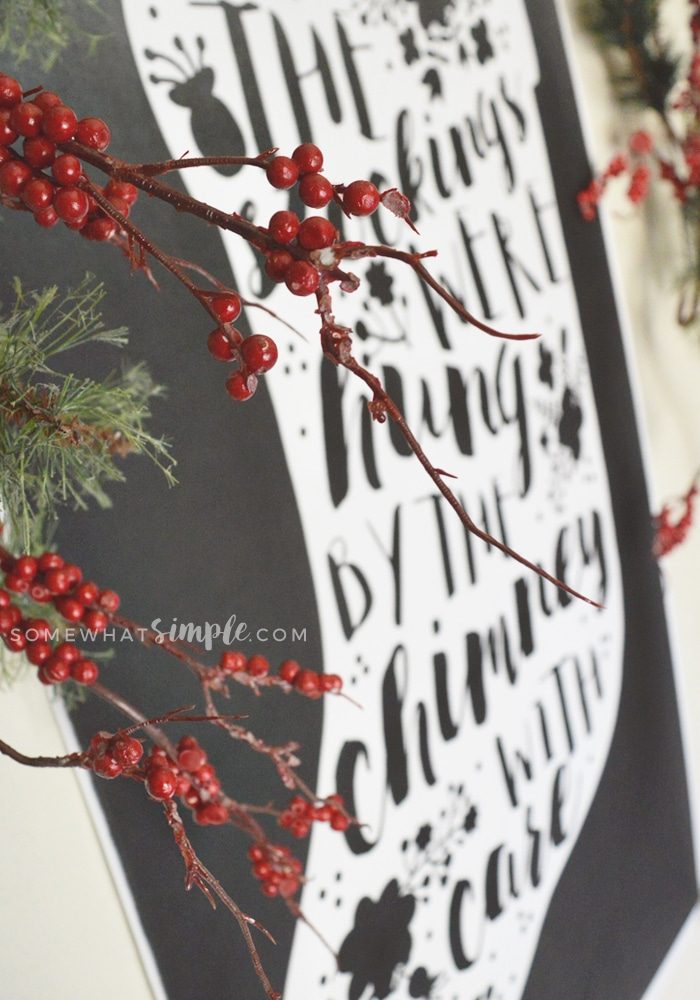 Christmas Stocking Printable
SUPPLIES:
stocking print (download below)
frame (head to Hobby Lobby and use a coupon! 🙂 )
DIRECTIONS:
Print a HUGE engineer print from your favorite online office supply store.
Select the size you'd like. (I always do the 18×36 since it is a standard frame size and it is easy to find frames without having them custom made.) An 18×36 print at Staples is only $3.59 AND it's often ready the same day or next-day!
Once you have your print, frame it, and admire how pretty (and affordable!) your new piece of Christmas decor is!
VARIATION:
Instead of spending money on a frame, use some painters tape to tape these prints to your wall. You'd be surprised how nice they look in a collage! Give it a try!
Aren't those stocking printables so much fun?!
Ready to Make Your Own?
Disclaimer: As with all our printables on Somewhat Simple, this Christmas Stocking printable is for personal use only. It may not be mass-produced, sold, altered in any way, or claimed as your own. Email us for permissions and/or questions – we are SUPER nice! 🙂
Merry Christmas!