These fun fall centerpieces are made with scrapbook paper and twigs from the yard! They're festive, versatile and so easy to make!
You know I love pennant banners, so it's no surprise that this pennant centerpiece is right up my alley! If you're knee-deep in decorating for fall, here are a few more ideas we think you'll love – Painted Pumpkins, "I Love You" Pumpkin Garland, Monogram Crow Printables, and our favorite Fall Banner.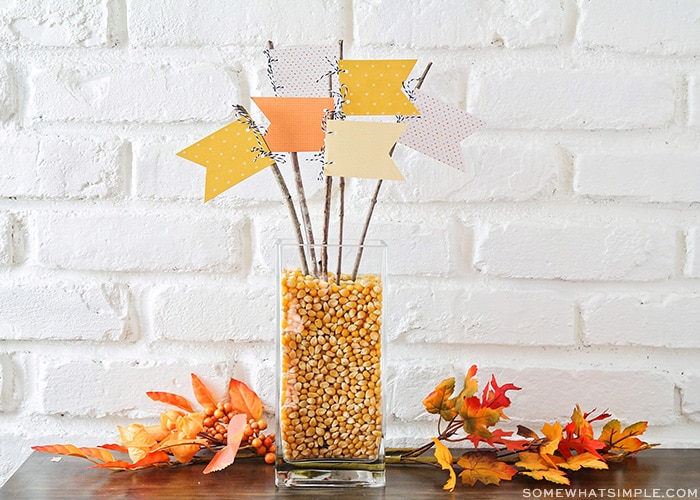 Easy DIY Table Centerpiece
I came across this fun and simple Fall centerpiece idea while browsing through a magazine in a doctor's office. It was an old, outdated magazine (as they usually are) so the idea they featured was a spring version that had pastel pennants in a jar of jelly beans – imagine that for a second. (So cute, right?!)
Since it isn't even close to spring, my impatient self decided to make a fall version. (Also, I probably wouldn't remember this idea come springtime, let's be honest!) This idea is obviously versatile – make them for any season, and make them in any size! (How cute would a smaller version be as place cards on Thanksgiving!?)
Gather a few supplies you have laying around, and let's get started making some cute fall centerpieces.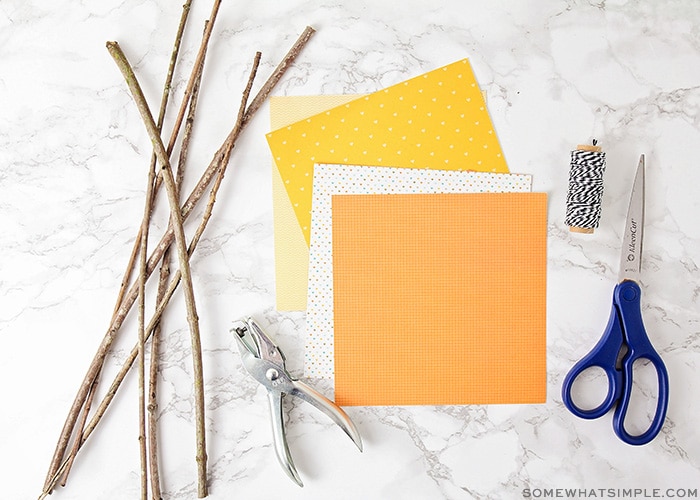 How To Make A Centerpiece For Fall
Pennants – First, start by making the pennants using fall colored card stock. Lightly trace out the shape of the pennants as many times as you need. Then cut out each one with a pair of scissors.
Punch & Lace – Punch out two small holes in each of the pennants and then lace your preferred color of ribbon or twine through the holes. Tie each pennant to a previously gathered twig.
Fill & Arrange – Grab a glass vase and fill it with popcorn kernels and then place each twig into the vase. Arrange them however you like and display your fall table centerpiece all season long.
More Fall Decor Ideas