This post may contain affiliate links. Read my disclosure policy
here
.
How to grow your email list with a free printable, eBook, coupon code, or any other amazing lead magnet!
For more business tips, be sure to read A Beginners Guide to SEO, How to Add a Logo to Your Photos, and How to Make a Blog Button.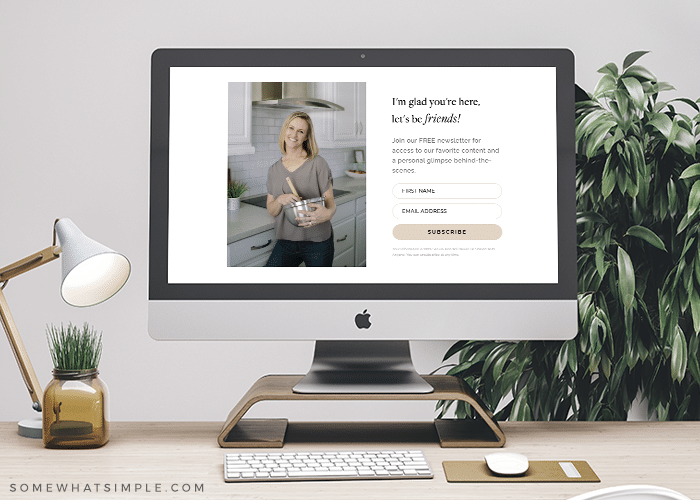 Growing Your Email List
One of the easiest ways to grow your email subscriber list is to offer an incentive that entices your audience to sign up. Over the years, I've used several email marketing platforms, including Mad Mimi, Mail Chimp, AWeber, and ConvertKit. In the fall of 2019, I stumbled across a new email provider that I am still using (and LOVING!) today – Flodesk!
Flodesk is a simple platform used by both beginners and experts to create beautiful emails that help grow their business. In the past decade that I've been sending newsletters to my readers, it is BY FAR the easiest, prettiest, and cheapest email platform I have found, and it completely changed the way I send my weekly newsletter. In just six months, I was able to grow my subscriber list from 30,000 subscribers to 50,000!
If you're interested in signing up for Flodesk, use my affiliate link to get 50% off your monthly service forever and ever! Go ahead and take a look at how cheap it is. You'll be shocked!!!
(If it asks you for a code when using that link, enter code "SIMPLE".)
From the moment you create your Flodesk account, you'll have access to gorgeous email templates and layouts that are super easy to customize and match your brand.
I get asked by other bloggers how I was able to grow my list so quickly, and my response is always the same –
You need to offer an awesome lead magnet!!!
What is a Lead Magnet?
A lead magnet is a freebie or opt-in offer. Website visitors give you their email address, and you give them a little digital freebie. You can offer a secret recipe, an eBook, a free PDF printable, a coupon code, or anything that provides them an instant value.
Here's how it works:
You offer some amazing freebie and share/promote it with a custom email form. Put the form where your audience can best see it – on your website, on social media, etc.
Your audience types in their email address into the form.
They get access to your awesome freebie via email or a separate link with access, and you get a new email subscriber added to your list!
Once they are on your list, you can start sending them your newsletters, which can turn them into loyal fans and potential customers!
How to Set Up a Lead Magnet in Flodesk
Get your freebie in the hands of all your readers in 3 easy steps!
1. Set up your email form so people can sign up for your freebie.
Your form will collect your readers' information and save it to your Flodesk account. Forms can be embedded on your website, blog, or any other place on the web that allows you to copy and paste a custom HTML code.
If you don't have a website yet, you can create a form that is published directly to the web as a landing page – just copy and paste the link Flodesk gives you and then share that link on social media.
2. Choose a segment
A "segment" is a specific list in Flodesk where your subscriber's information is stored. When you are creating a form, you'll need to specify which segment to add your new subscribers to. You can create a new segment or add them to an existing one. Segmenting is a good way to organize your list of subscribers and it gives you even more info about who they are and/or what form they came from. Having multiple segments makes it helpful to send emails to a certain group of people with something in common.
For example, on my site, I have people who opt-in to get free recipe eBooks and people who opt-in for free kid's crafts printables. I have different segments called "Recipes" and "Printables", so when I compose an email full of favorite recipes, I can send that email only to people on my Recipe list. If I compose an email with a little bit of everything, I can select "All Subscribers" and that email will be sent to everyone on every segment.
3. Create your welcome email, or add your PDF to the form settings.
After your new subscriber fills out the form and gets added to your segment, it's time to hand them your freebie. You can do this in two ways –
Set up your form to automatically load a pop-up page with your free PDF.
Send them an automated email that contains your freebie.
To automatically load a page with your free PDF –
Upload your printable or eBook to your website's media library.
Grab the link to that printable and paste it in the box where Flodesk asks for it during the form creation process.
This method is my preference when delivering a freebie. I like that I don't have to set up an email, and since nothing is emailed, I get fewer complaints from people who can't find it if/when an email is sent to their spam folder.
To send an automatic email with your free PDF –
Create your welcome email with a link to your freebie, or make sure you attach it to your email.
Add your email to a Workflow. A Workflow is what automatically sends your welcome email to your new subscriber.

Set your Workflow trigger

to begin when your subscriber is dropped into the segment you created above.

Add the welcome email you created to the workflow so it is immediately sent

as soon as someone adds their info to your form.
Here are a few helpful tutorials –
To recap –
A subscriber opts into your beautiful form and is automatically added into a segment in Flodesk.
As soon as Flodesk sees the new subscriber on your segment, they will get access to your freebie in one of two ways –

an immediate popup screen will load with your freebie
an email you previously wrote and set up in a workflow is immediately sent, containing the freebie file or download link.
Now that you know how the system works, it's time to start growing your email list!