Ultimate Guide to Universal Studios Halloween Horror Nights
Halloween Horror Nights at Universal Studios is the biggest Halloween party of the year! We've got 10 tips you'll need to make this party the best one yet!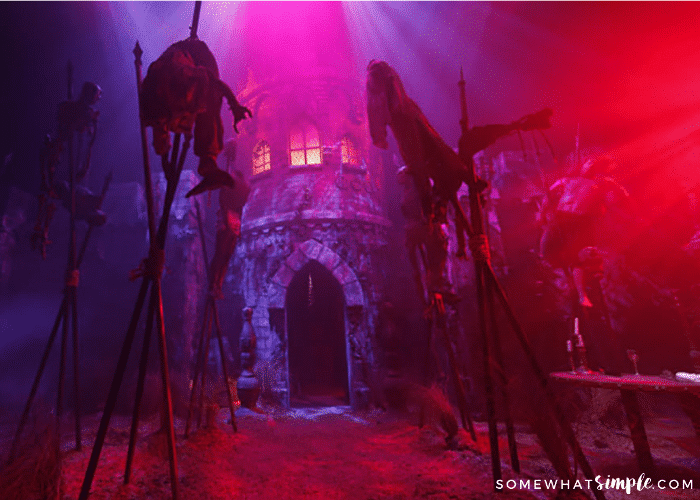 Halloween Horror Nights – 10 Helpful Tips
Halloween Horror Nights has plenty of haunted houses, haunted mazes, and scare points to keep you shaking all night long. Here are a few things to keep in mind as you prepare to go –
1 // Best Dates to Go to Universal Studios –
Halloween Horror Nights is one of the best Halloween activities in the US, however you do not want to go on the busiest nights of the year. Lines can be as long as three hours for a 2-3 minute attraction. Trust me, it is not fun, especially if there are rowdy people in line. The busiest dates in October are the weekends – so plan accordingly.
2 // Leave The Kids Home–
We LOVE our kids, we really do, BUT if you want to do Halloween Horror Nights, leave the kids at home. You will see a lot of kids but you will also see a lot of crying, temper tantrums, and complete melt-downs. Halloween Horror Nights is scary, really scary. It is meant to be the fright of your life and they live up to it. Also, there is a lot of alcohol going around, so it is really not the best place for young children. Universal has it up everywhere that it is not a safe place for children, so please adhere to that advice.
3 // Eat Before You Go –
Lines are long, and the last thing you want to do is waste time in line for something to eat. If you have been at the park all day make sure to eat something before the event opens. If you are only arriving for the event, eat before you get there. There are several great options at CityWalk.
4 // Alcohol at Universal Studios –
Sad that this even has to be on our list, but it is a good warning. Alcohol flows freely at this event. So be prepared for some very rowdy and rude people. Alcohol makes people brave, which means line jumping, fighting, and other unseemly things may happen.
Universal will card everyone that wants a drink, so make sure you bring your ID. Universal has an army of security during Horror Nights. You will find uniformed security, plainclothes security, and the Orlando Police Department. Thinking about sharing a beer with your underage friend? Don't do it, because if you get busted they will kick you out with no refund. + you are likely be arrested, in front of everyone. If you are drinking at the park, don't think about driving back to your hotel. Checkpoints are out in full force.
5 // Wheelchair Accessibility –
Motorized Wheelchairs and EVC's are not allowed in the haunted houses, ques, or in any ride vehicle. If you need special assistance please see someone at guest services.
6 // Can they touch you at Halloween Horror Nights?
The performers are allowed to get close to you. They can't touch you but they can get in your face, etc to scare you. This can make some people uncomfortable. However, that does not give you the right to kick, punch, scream, verbally abuse, or assault the actor. They are doing their job and you have no right to lay hands on them. If you are caught doing so you will get arrested and charged.
7 // Halloween Horror Nights Tickets –
Remember that Horror Nights is a separate entry into the park. Don't try to stay in the park during Horror Nights for free. If you are caught it will be a big mess, so do yourself a favor, buy the tickets.
8 // Consider Splurging for The Express Pass –
Express Pass will enable you to bypass the regular line. They are expensive, very expensive. Two people for two nights will run you around $319.00 but they are worth it. It gets you closer to the fun much quicker and alleviates a lot of stress.
9 // Hotels Near Halloween Horror Nights-
I cannot stress enough how much better it is to stay on-site!! When you stay off-site, not only do you have to pay the full parking price of $20 for regular parking or $30 for preferred parking, you will also have to fight the hundreds of other people that thought staying off-site was a great idea. Do yourself a favor, stay on-site and take one of the shuttles into the park. No parking, no added fees, and no headache!
10 // Follow The Rules –
Another great way to be escorted out of the park is by not following the rules. Here are a few rules you should be aware of that could get you kicked out, again, with no refund:
Costumes are Not Allowed. If you show up in costume, you won't even make it in the park!
No Excessive Foul Language – Even though this is an adult only event (yet, people still bring their kids) please keep the foul language to a minimum.
No Line Jumping. If you are caught you will be asked to leave.
We hope you find these tips helpful! Have so much fun!!!