In the Mood for Love Printable
Are you in the mood for love? Either way, it's time to let him know with this free Pillow Talk Printable!
Here are a few more printables we think you'll enjoy – TaDa List, Guest Welcome Basket, and Monogrammed Stationary.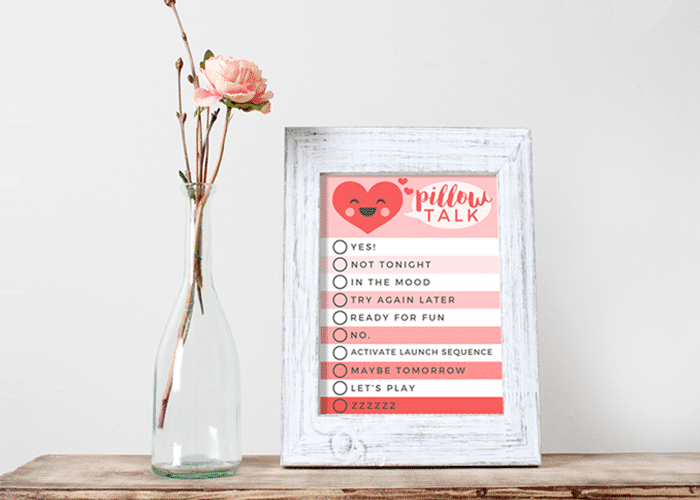 I was joking with my husband the other night about sending him a "sign" so he knows exactly how I feel about the possibility of any "nighttime activities." I was only half-serious, but the more I thought about it, the idea of creating something every couple could get a good laugh at became funnier and funnier!
I came up with this idea to let him know whether or not I am "in the mood for love" – and I kind of love it, as it definitely makes me smile! No more trying to guess how I might be feeling! – this is literally the clearest "sign" he could ask for!
If you'd like to make your own, you're in luck! Today we're sharing the FREE printable, so all you'll need is a frame!
Pillow Talk – In the Mood for Love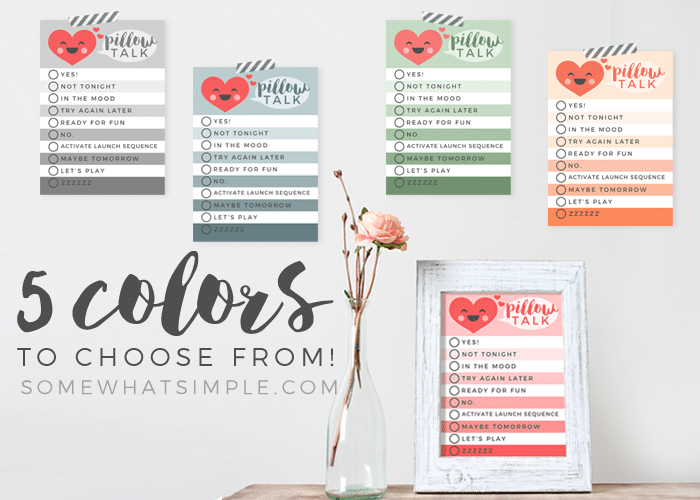 This printable is available in 5 different colors. Just download, print and frame it and you're ready to go! (Or ready to go to sleep!)
This would be a funny bridal shower I go to- every girl needs one of these!!! (If, for nothing else, but to laugh and secretly agree at how helpful and true it is!)
Pillow Talk Printable
*Not fun, but totally necessary DISCLAIMER: These "In the Mood" printables are for personal use ONLY, and are not to be sold digitally or physically. These Pillow Talk printables, and all of our printables, are not to be altered or changed. Do not use or copy any part and claim as your own. Thank you!