This post may contain affiliate links. Read my disclosure policy
here
.
Are you trying to up your fashion game? Learn how to wear a necklace with our necklace guide and 10 styling tips.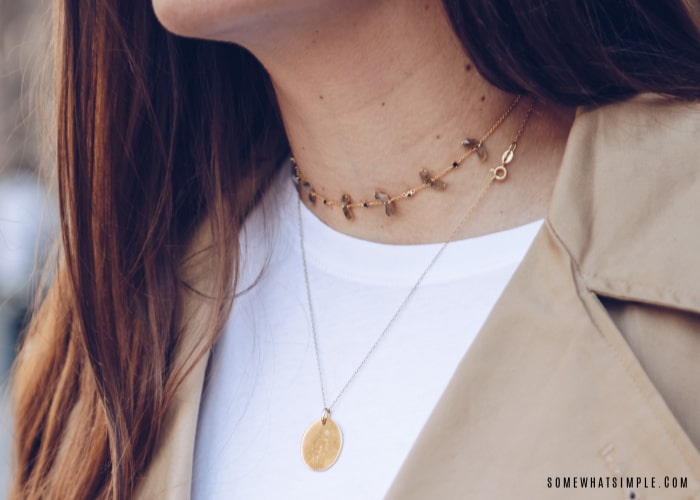 Wearing a necklace is a great way to turn a casual outfit into something more put together, as well as enhance your formal wear for a dressier occasion. But do any of you have a problem determining which necklace would be appropriate for your ensemble?
I do!
It's taken me years to feel comfortable with wearing fun jewelry, and I still get hung up from time to time. So I've done a little research and come up with my own necklace guide, featuring some simple rules that I follow when choosing my jewelry for the day. This definitely makes it easier to decide if I'm making or breaking my outfit whne I'm short on time.
Necklace Guide – 10 Tips
1. Big statement necklaces should be the focal point of your outfit. They look best with solid-colored clothing and simple necklines: strapless, v-neck, off-the-shoulder, and scoop necks.
2. If you are wearing colorful clothing with bold prints and patterns, wear a monochromatic necklace – black or white beads, simple gold chains, dainty diamonds, etc.
3. Small necklaces look good with any top where the neckline or bodice is the focal point. If a shirt or dress has a fancy necklines, lace paneling, etc. add interest by wearing statement earrings.
4. Don't over do it by wearing a big necklace with big earrings and lots of rings and dangle bracelets! Pair a statement necklace with small stud earrings, or a simple necklace with a fun ring.
5. Collared shirts can be tricky.
For a classy look, choose a necklace that falls right at the collar, button up your top all the way, then place the necklace under the collar
For a more casual look, choose a necklace that is slightly longer and leave one or 2 buttons undone so the necklace falls right down the center.
6. If you're wearing a V-Neck, make sure your necklace is only touching your skin. It starts to look weird when the necklace falls on top of your v-neck.
7. A gold or geometrical necklace looks great with a blazer or jacket.
8. Neon necklaces look great with chambray or denim.
9. Match your necklace with a bold part of your outfit – a pink necklace with your pink purse, a red pair of heels with a fun red necklace, etc.
10. Layering necklaces is a classic way to dress up an outfit, but here are a few layering rules –
If layering more than 2 necklaces, layer in odd number multiples.
You can layer contrasting styles and metals: pearls or pavé, geometric shapes, chains with different weights and textures etc.
Choose to layer chains in varying lengths.
There you have it! Did I miss any necklace styling tips and rules you follow? Leave me a comment in the section below and let me know your thoughts!
I sure hope this necklace guide helps you decide what accessories go best with your outfits! Have fun!