Printable Valentine Decor – L-O-V-E Scrabble Tiles
Looking for some printable Valentine decor? These printable Scrabble Tiles are the perfect way to bring a little love to your home this Valentine's Day!
Here are a few more printable Valentine ideas we think you'll love – Monster Valentines, Love Bug Craft, and Valentine Activity Cube.

I'm not a huge 'decorate with hearts' kind of person, but I do love adding a little touch of red here and there, especially this time of year! I also have a thing for minimal is, so these Scrabble tile printables are absolutely perfect! This idea will cost you almost nothing, and they will look amazing with any type of decor! (These would also make a great gift for teachers, neighbors, friends, etc.)
Scrabble Printable Valentine Decor
SUPPLIES –
LOVE Scrabble Tiles (download below)
scissors or paper cutter
banner option: string + tape
life-like option: 4×6″ blocks of wood + matte mod podge
DIRECTIONS –
First, print off our tiles and then cut out with scissors (if you're one of those lucky types who can cut in a straight line), or for the rest of us, a paper cutter. 😉
From here, you can just display anywhere you'd like! On a cork board, fridge, taped to a wall, etc.
If you want to make this into a banner, simply cut a piece of string the desired length, then tape the tiles onto the string and hang!
If you want to make this a little more life-like, mod podge the prints onto 4×6″ pieces of wood. Once dry, add a top coat of mod podge, let dry, and place anywhere you'd like!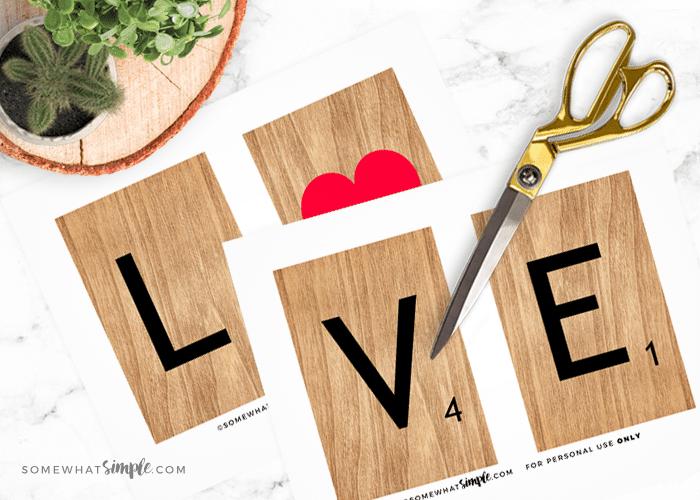 So cute, right? These really are simple to make, absolutely adorable, and we hope you enjoy them as much as we do!
Ready to create your own?
Here's to taking a little bit of the stress out of the Valentine Season this year! 😉