Fall in Washington DC Travel Guide
Before you head to the nation's capital, we have some tips and suggestions we'd like to share. Here is our Washington DC Travel Guide.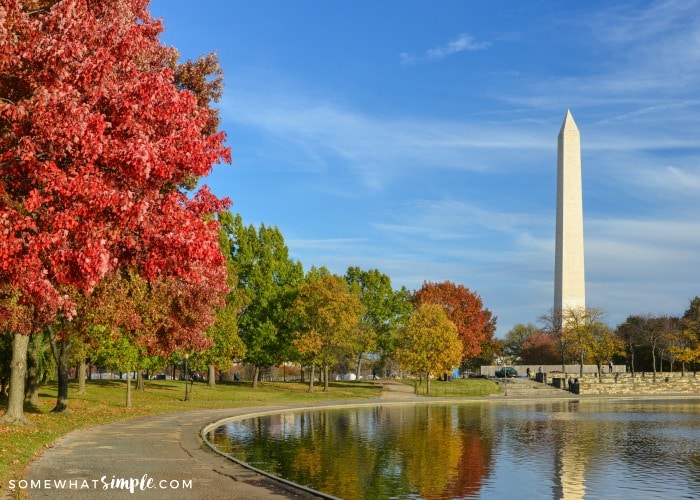 Visiting DC in the Fall is the perfect time to go! Not only is the weather gorgeous and the scenery beautiful, but it is also typically less crowded since school is in session. Visiting DC in the fall is a little different than the Spring and Summer, so before you head out to take in all the sites and sounds, you need to know just a few things.
Washington DC Travel Guide – Tips and Suggestions
Learn the Metro. The Metro is relatively new. It has heat and AC and even free wifi is some spots. It is the best way to get around however, there are certain "rules" you should follow-

Paper cards are great but they will slow you down. You have to stop at the turnstile, wait for the person to go through, and it can be a hassle. Purchase the SmarTrip card and your commute will be much faster.

Don't hog the door, when you step in move towards the center of the car to keep the flow of passengers moving. Blocking the door never ends well.

Don't eat or drink, it is against the rules and you will be fined for it. 

Don't try to do the city all in one day. You will hear a lot of people say they are taking a day trip to DC, and you may think they'll hit all the museums and hotspots. You would be wrong. Normally, a day trip to DC entails one Museum, lunch, and then the ride home. It is impossible to see everything in one day, and if you try, you will miss so many things this beautiful city has to offer.
Hotels in DC. Since you can't do the city all in one day, there are a few things to consider when deciding where to stay. Here are some tips on this –

Choose a hotel that has free parking. Since you will be riding the Metro pretty much everywhere you can just park your car and leave it.

Look for the cheapest rates. Staying in the fall will mean lower hotel prices because it is not the peak season. The same room that was several hundred dollars in July will be much cheaper in October.

When in doubt, rent an Airbnb. You can get save money and get an entire house for about the same cost as a tiny room at a hotel. (Just make sure to read all the reviews and policies before putting that money down!)

Things to do in Washington DC
There are a lot of activities, free events, and fun things to do in DC in the fall. And because the city is gearing up for Halloween and for the holidays, the fall activities are slightly different than those you'd find in the spring and summer. Below I have listed five of the best!
Boo At The Zoo
The Smithsonian's National Zoo puts on a fun event called Boo at the Zoo that is seriously so much fun! The zoo is transformed into a spook place, complete with treat stations, keeper chats, animal demonstrations, and decorated trails. There is entertainment such as jugglers, magicians, and a dj. Forty treat stations are situated throughout the park where kids can receive candy donated by the Mars company and a commemorative trick or treat bag. It is a great way to learn about animals and have a great time trick or treating in a safe environment.
The National Arboretum
The National Arboretum is a living agriculture museum in DC. It is a great place to take in all the fall colors of the changing landscape. It is also the famous nesting place of Mr. President and First Lady. The Eagles became famous as the world awaited their Eaglets. It was a great way to pass the time while waiting on that giraffe to give birth! I am not sure the Eaglets will be there but I can promise there will be a lot of foliage showing of their red, orange, and yellow colors.
Barktober Fest
If you have a 4-legged fur baby, you need to take them to Barktober Fest! The live music, fabulous food, pet costume contests and more makes this fun for people (and pets!) of all ages! You can shop till you drop and participate in silent auctions, or join runners and walkers to raise money to help save abandoned, abused and neglected cats and dogs. Everything is all a glow and you, as well as your pet, are encouraged to wear glowing items. The whole event is a great day for everyone!
Eat Your Way Through The Taste of DC
Happening in October, Taste of DC is the best way to try all the flavors of the mid-Atlantic in one spot. Held at America's main street, Pennsylvania Ave, the festival includes over 60 of DC's finest restaurants. Most items are between $1 and $3 with signature dishes going as high as $8. There is also entertainment and fun activities. It is great for all ages and a fun day for everyone.
Maryland Renaissance Festival
The Maryland Renaissance Festival is one of the largest festivals of its kind! It runs on certain dates late August through early October. There is so much to see – we highly recommend the two-day pass. You can dress in a period costume, eat a huge turkey leg, and watch a jousting tournament. There is a lot of entertainment, food, and fun to go around. Learn to juggle or watch the Princess be saved. Make sure to check out the website for this year's storyline so you can be in the know!
We hope your Washington DC travel plans turn out amazing!