Clean + Simple Dining Room Decor
Our plain and simple dining room gets a much-needed facelift! Classic design and easy upkeep is the name of the game, making this space absolutely perfect for our family!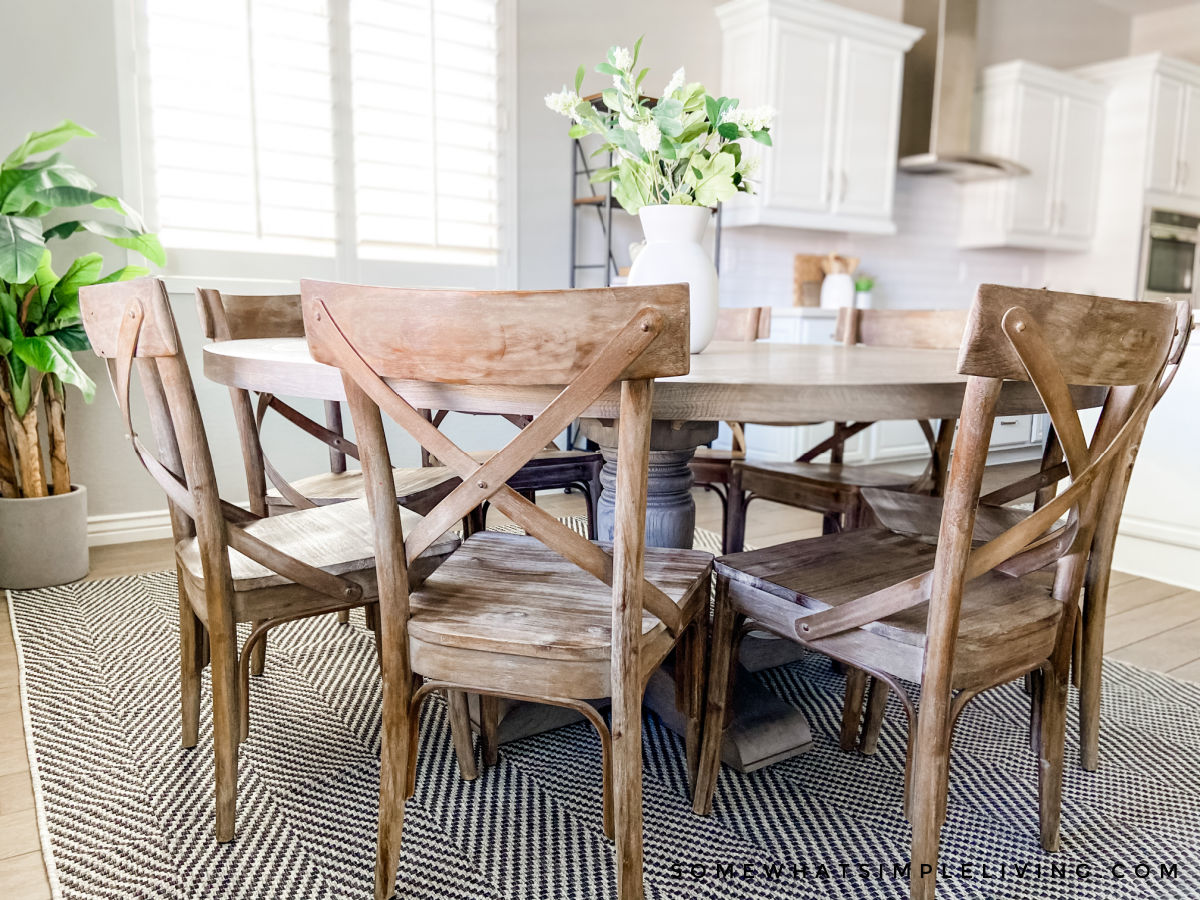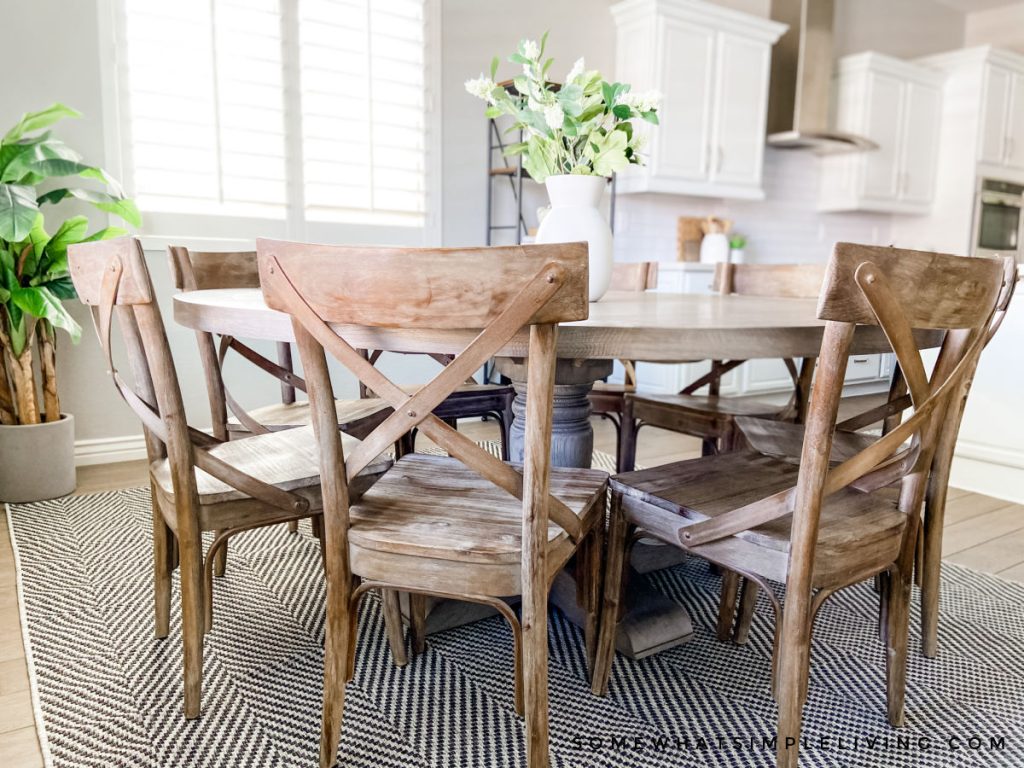 Our dining room table was the very first piece of furniture I bought for our home when we moved in. It's been 7 years, and I am still in LOVE with this table. The memories our family has made around it during dinner, game nights, and study sessions are truly priceless!
BUT even a pretty table needs a few "things" to complement it and show off its full potential. Case and point – here is what our dining room looked like just a week ago –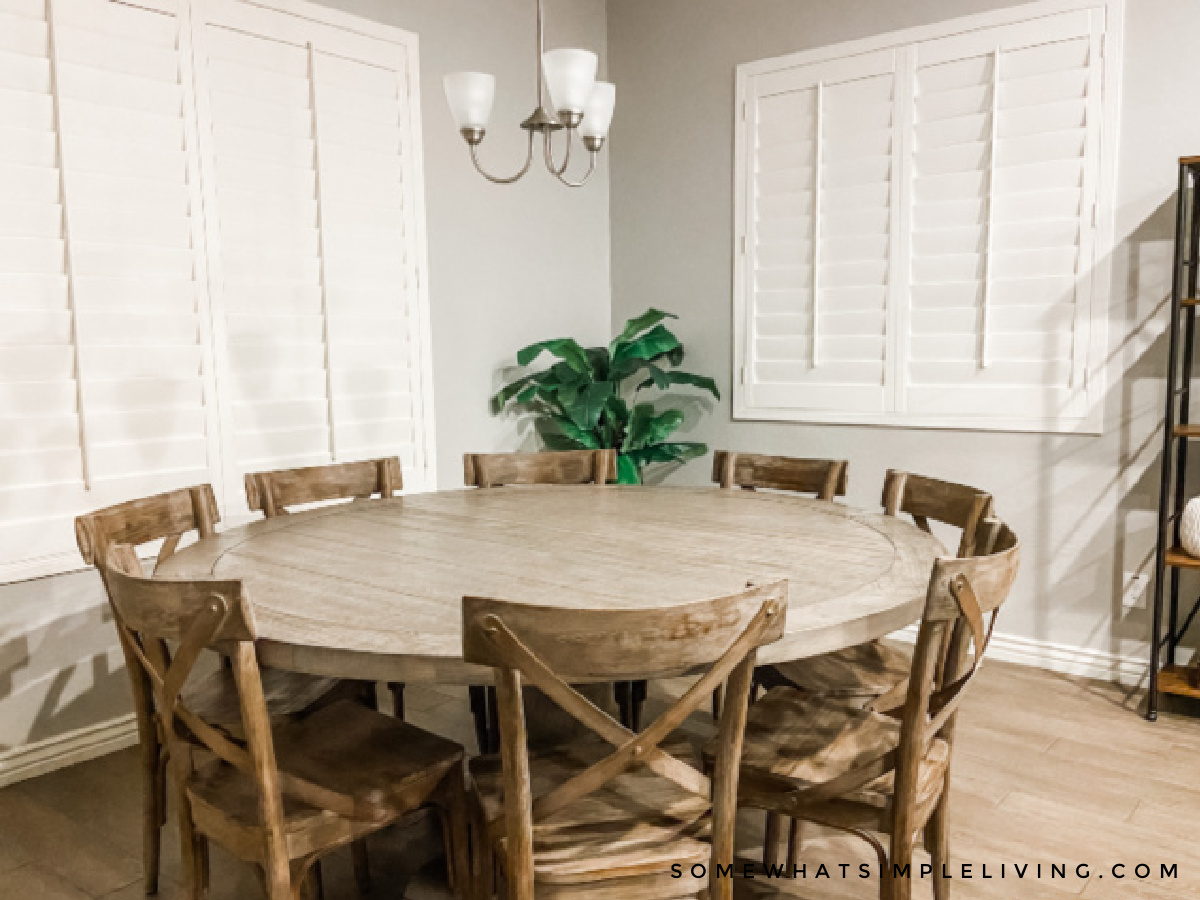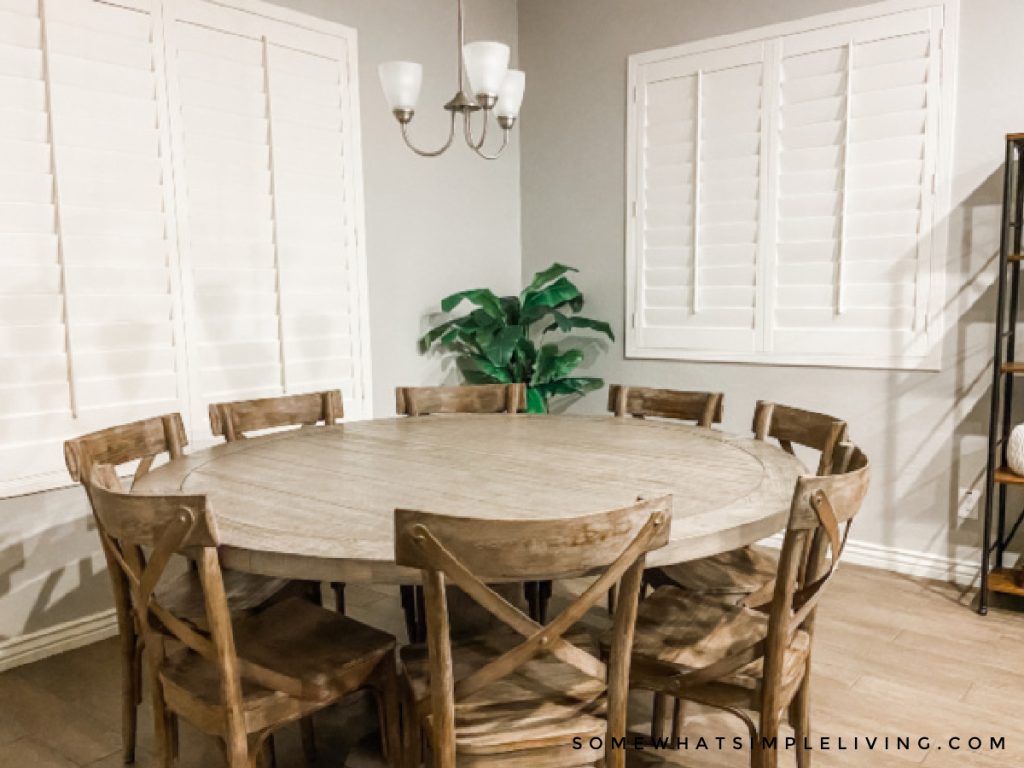 Very drab.
The table matched the floors in color almost perfectly, so it was just brown on top of brown and so blah. The light fixture that hung over it was this tiny little thing that our builder installed, and there was very little color or dimension in this space at all.
Dining Room Plan
To make this space look amazing, I set some goals and made my project list –
#1: Find the perfect rug. A rug will help break up all the brown, but because this space gets used a TON every day, I had some very strict criteria for finding the perfect rug –
Our backyard access is a large sliding door to the left of the table, so the rug needs to be an indoor/outdoor rug that will hold up to dirty shoes from the kids and their friends, as well as wet feet from our pool.
The perfect rug has a simple pattern that adds dimension without being overwhelming. Nothing too geometric or floral, but no solid colors either.
It needs to have dark colors to hide dirt and spills until I can wash it. I

only mop our floors once every 1-2 weeks, so to keep everything looking nice between washes, a dark-colored rug is a must!

It needs to be easy to vacuum or sweep.

We use our dining room every day and need to sweep or vacuum crumbs after dinner. 
#2: Get a new light fixture. I wanted something bigger (obviously) and I wanted it to be black so it stood out against the gray walls and brown table. Swapping the light fixture has been on my project list since we first moved in, but chandeliers can be expensive, and I was sure I would need to hire an electrician to install it because I had never done it before. All of this seemed overwhelming to me, so I kept putting it off.
#3: Add a simple centerpiece. Because we use this table every day, I didn't want to go crazy with an arrangement that would have to be removed and replaced each time we sat down to eat. But a simple vase with flowers or greenery that could change with each season would be a great way to add some color!
Ready to see how it all looks now???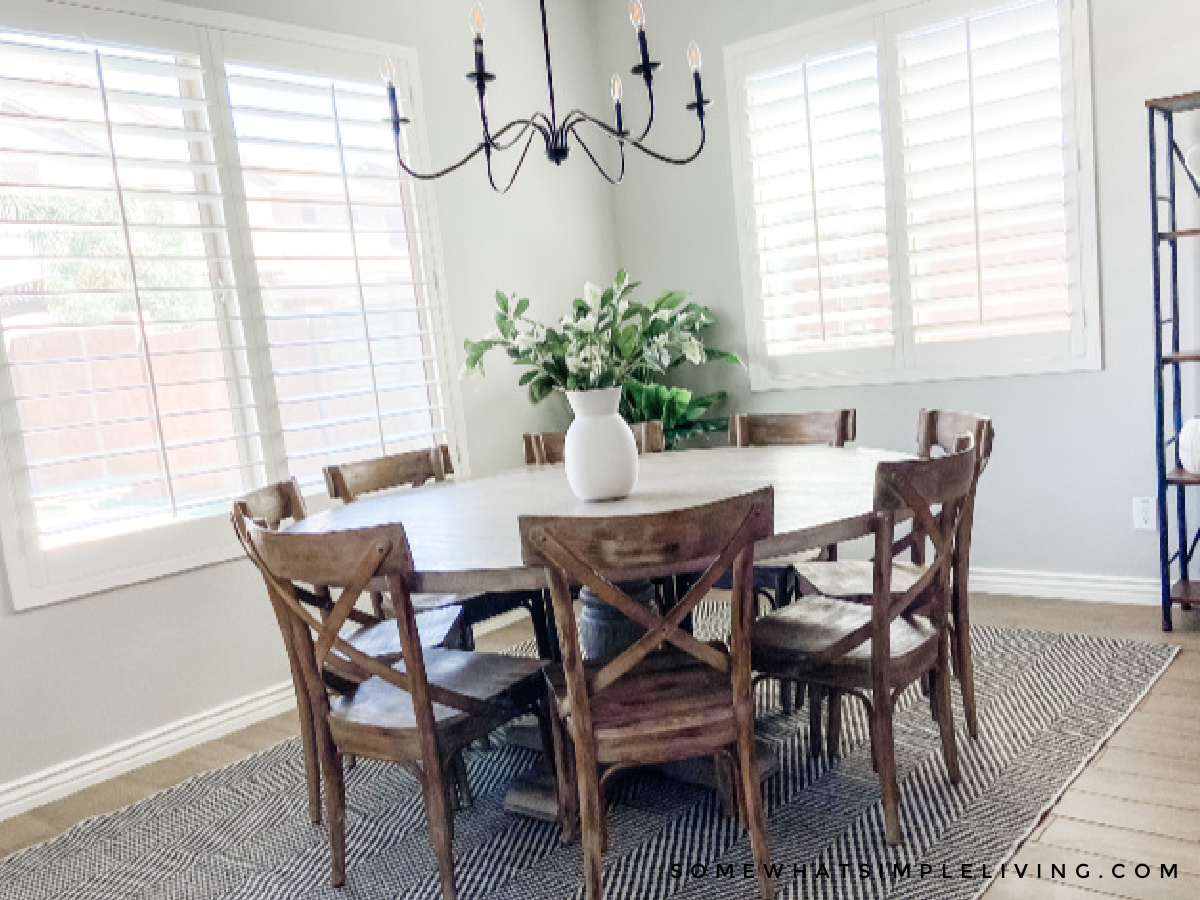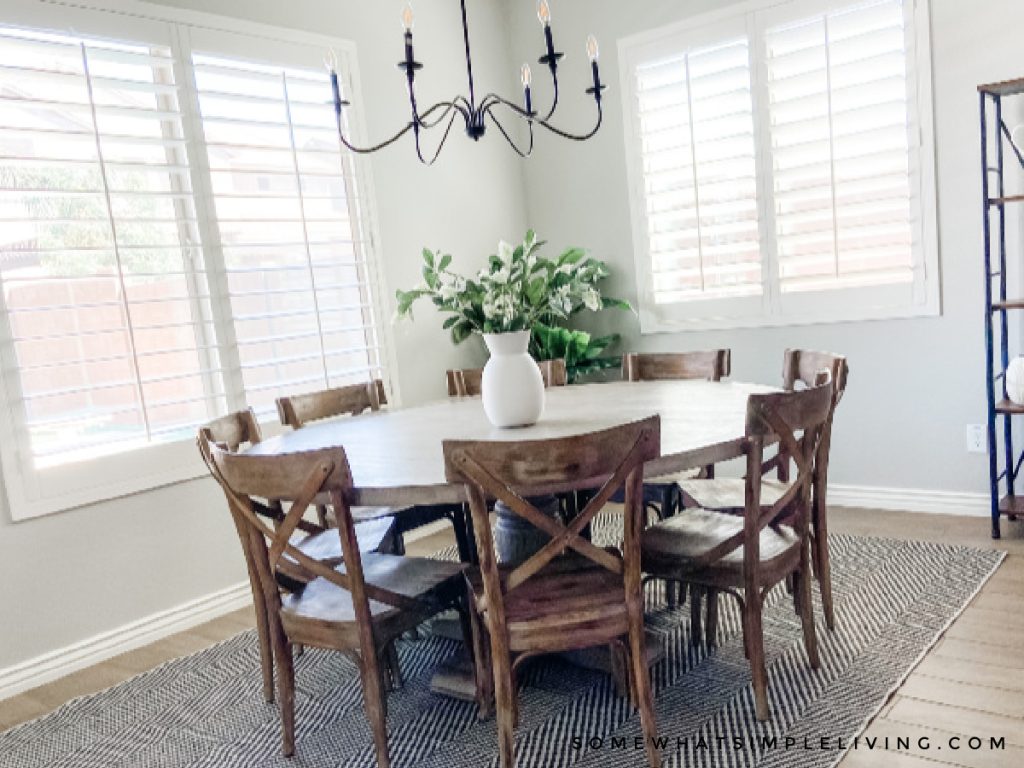 Ahhhhhh!
So.much.better!
And my entire project list was completed in only 3 days! Take a closer look –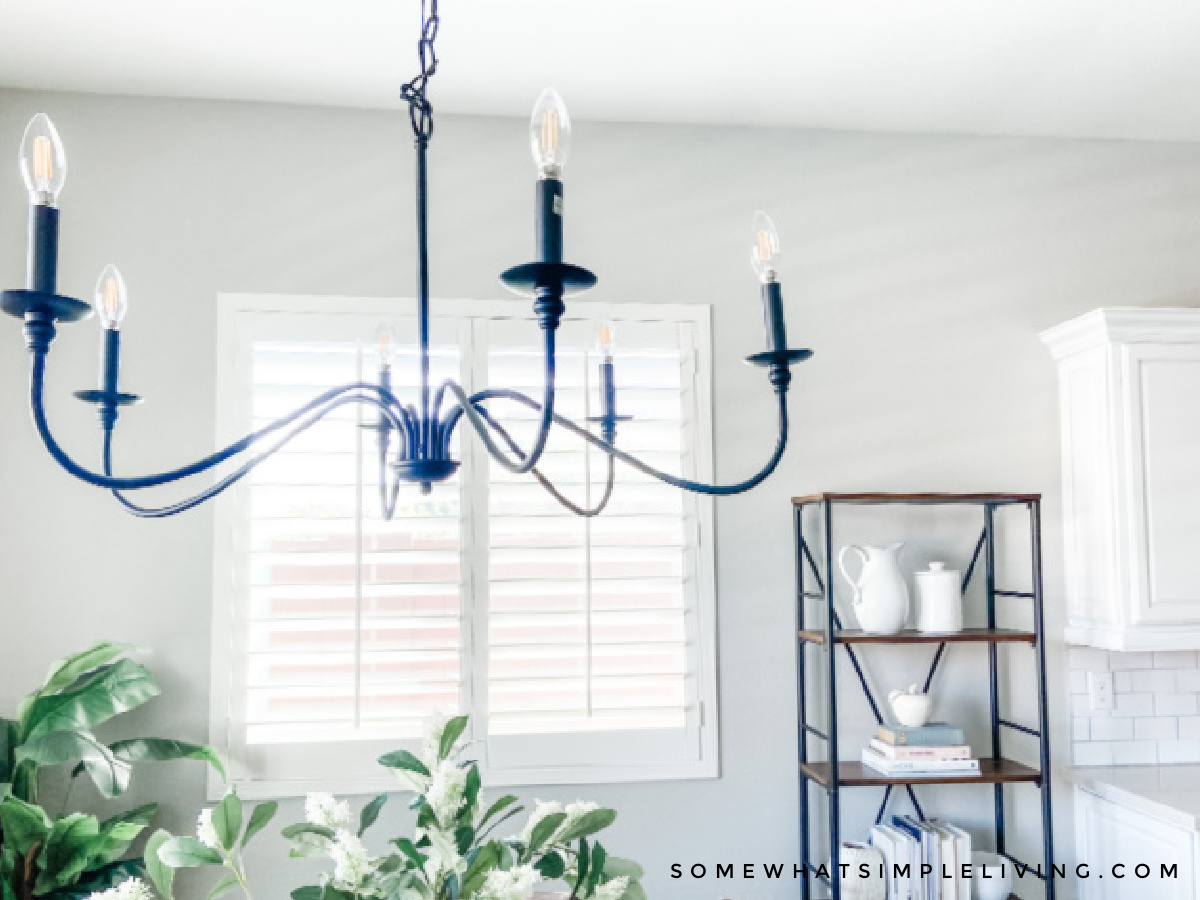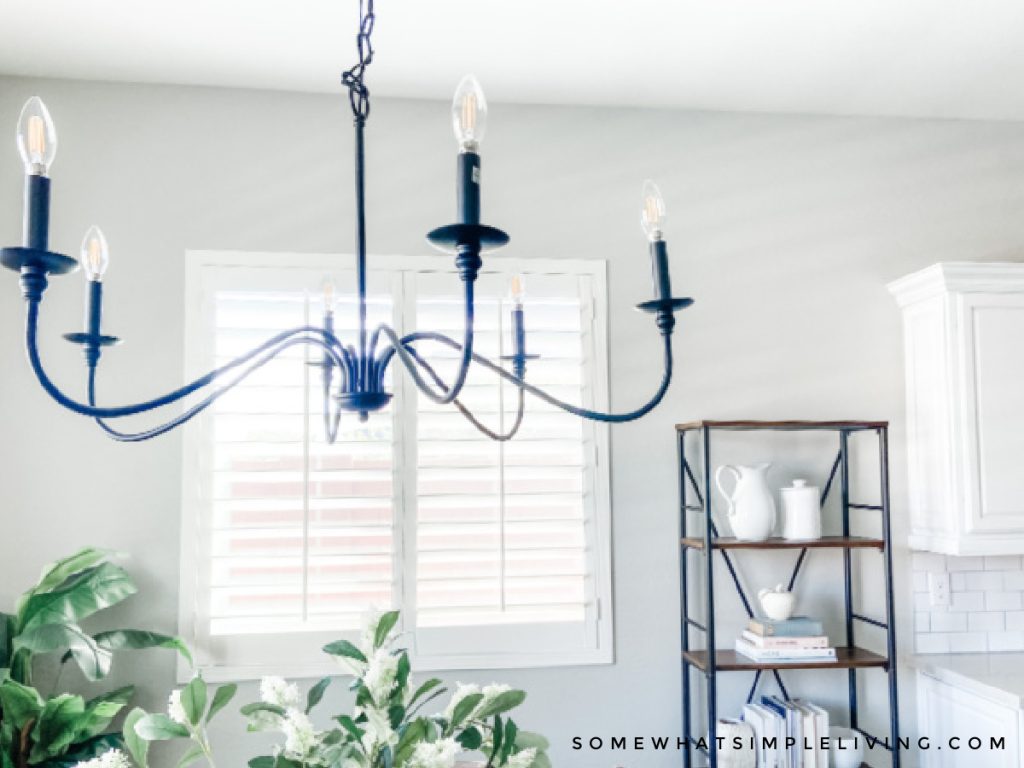 Not only was this HUGE chandelier a steal in price, but I actually INSTALLED IT MYSELF!!!
Me!
I've never done anything like this before, but so many handy friends told me it was easy to do, so I watch a few YouTube videos and I did it!!!! And it really was easy to do!
Doesn't it look amazing?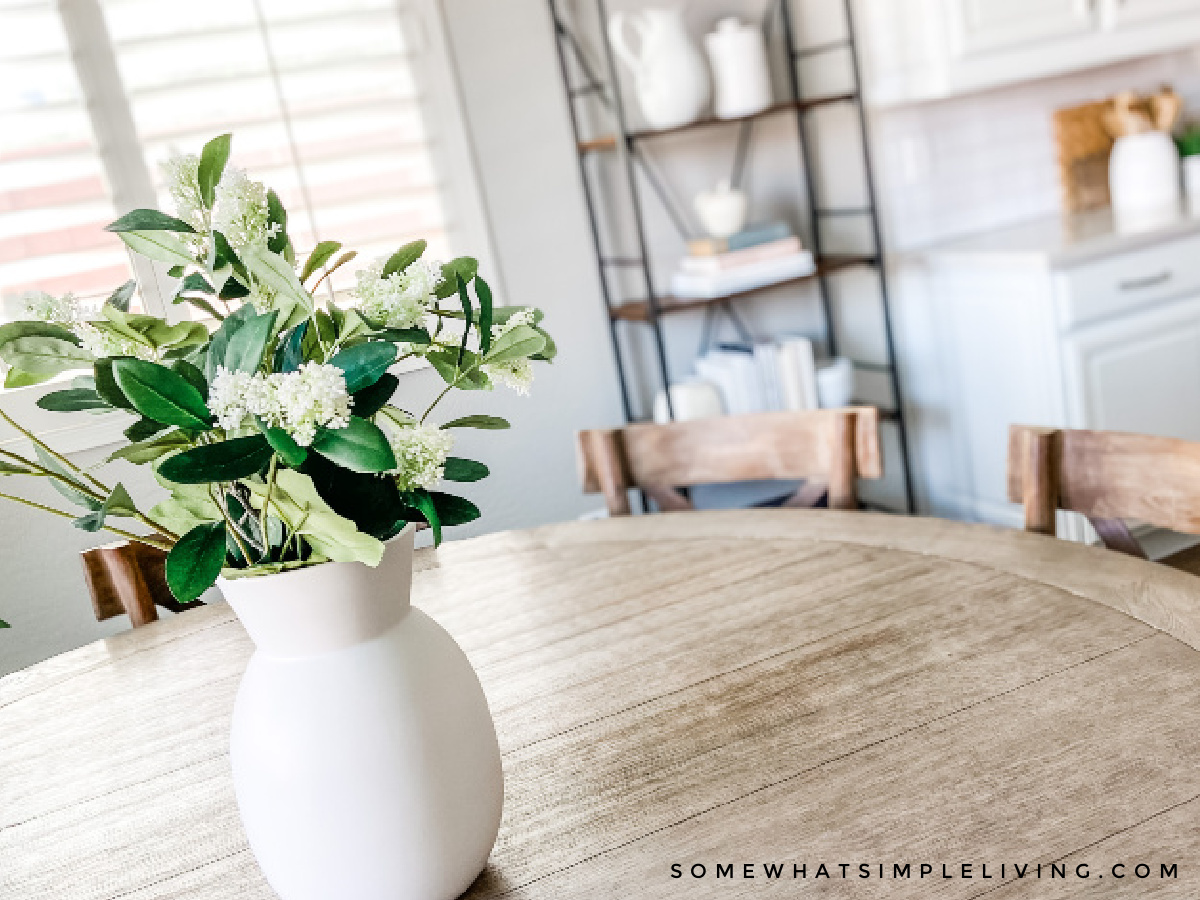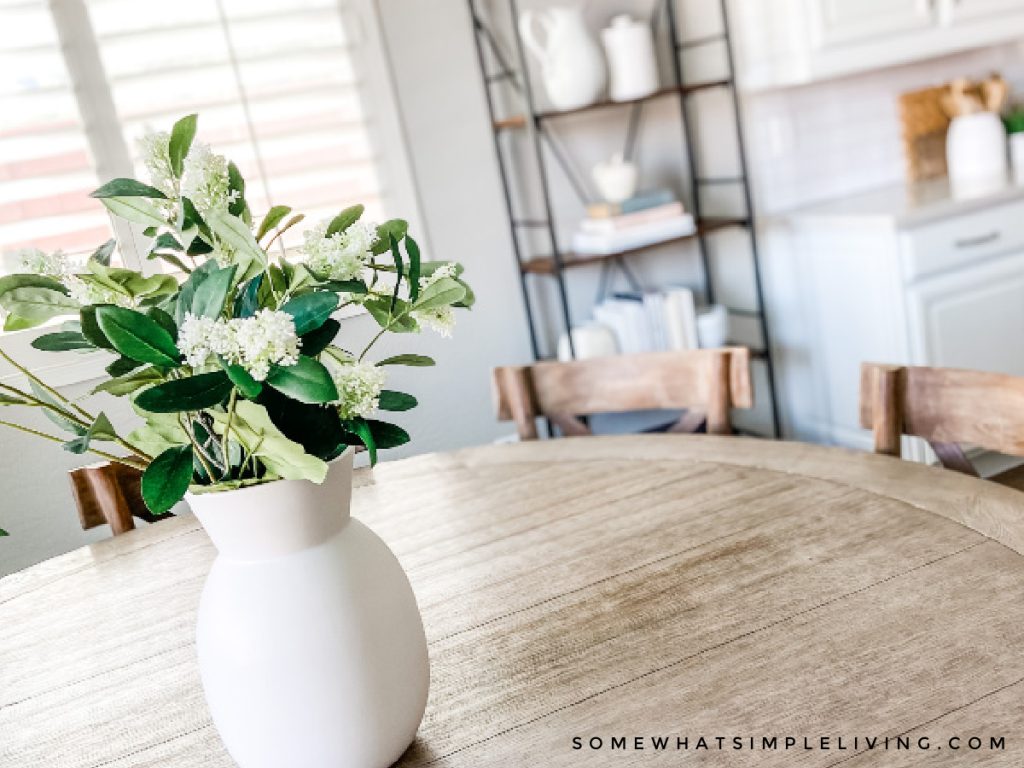 I added this simple vase with faux greenery. I love the way it looks, and I love that I can swap out the stems with seasonal items for an easy update.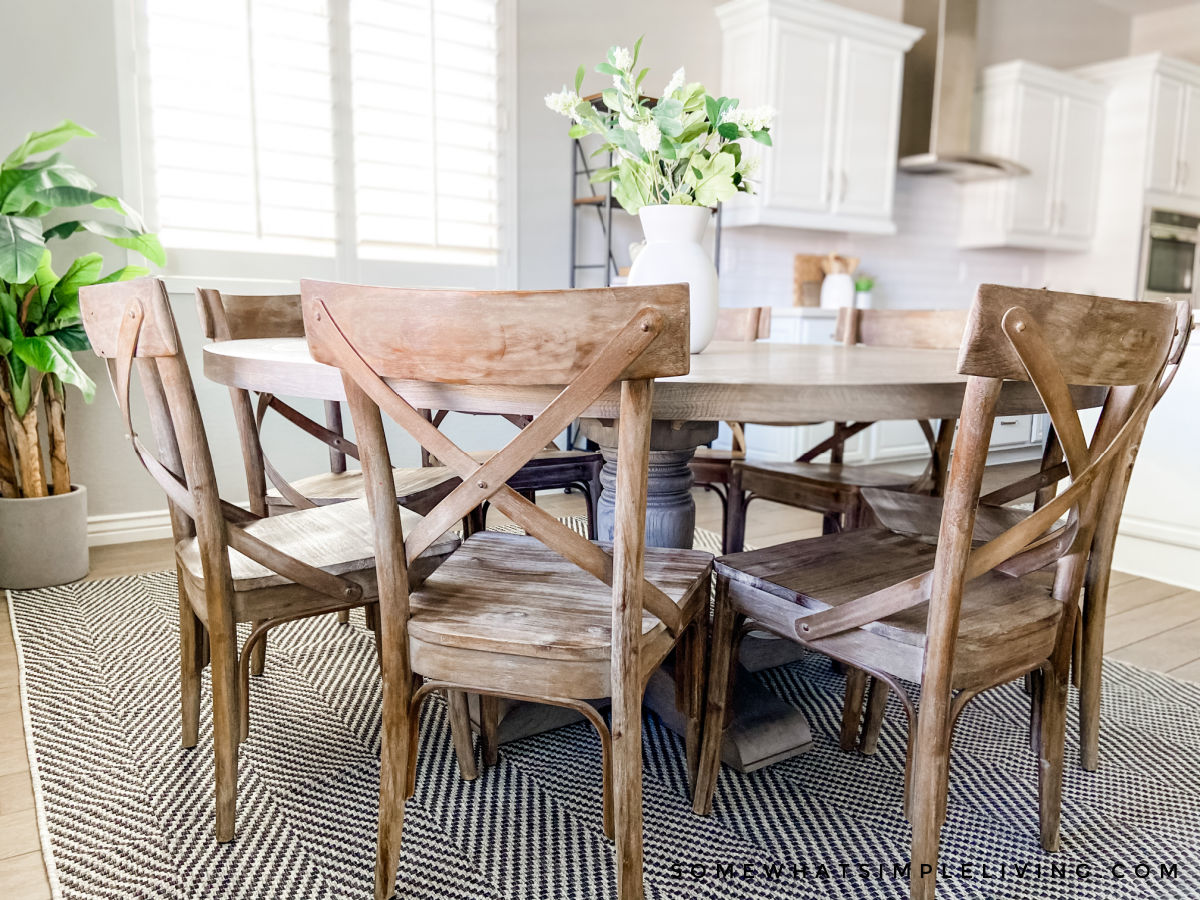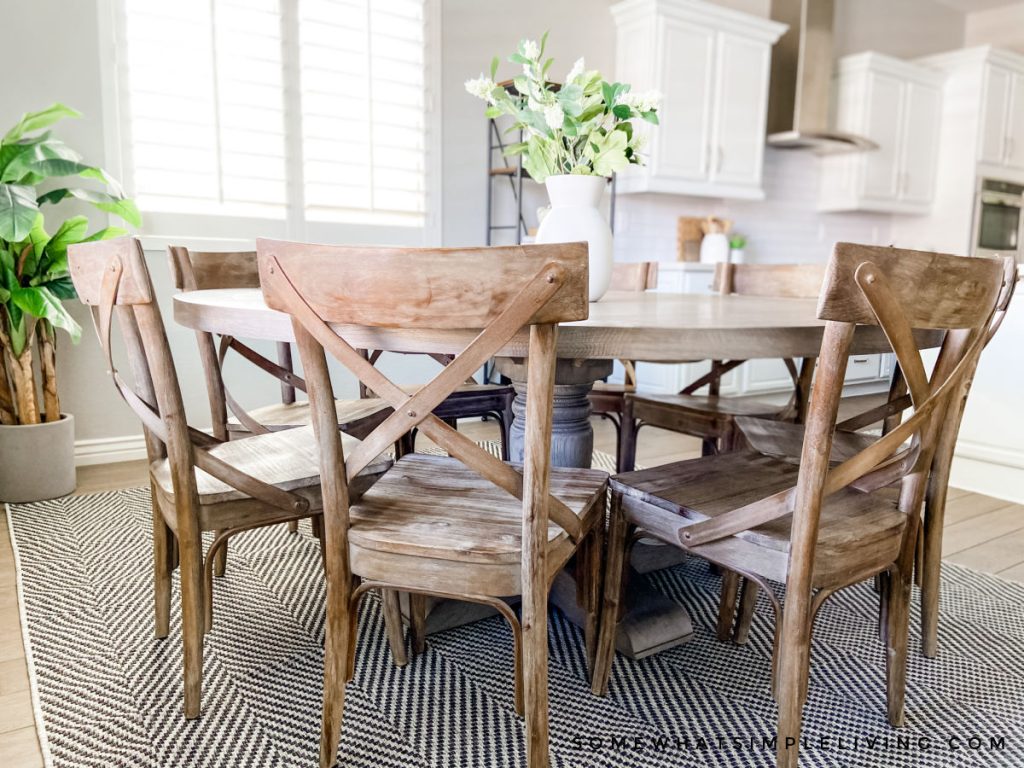 Guys, I found the perfect rug!!!!! This rug meets alllllllllllll my criteria, and it was super affordable! It breaks up all the brown in this dining room, it adds dimension without being overwhelming, and it is SO EASY to clean!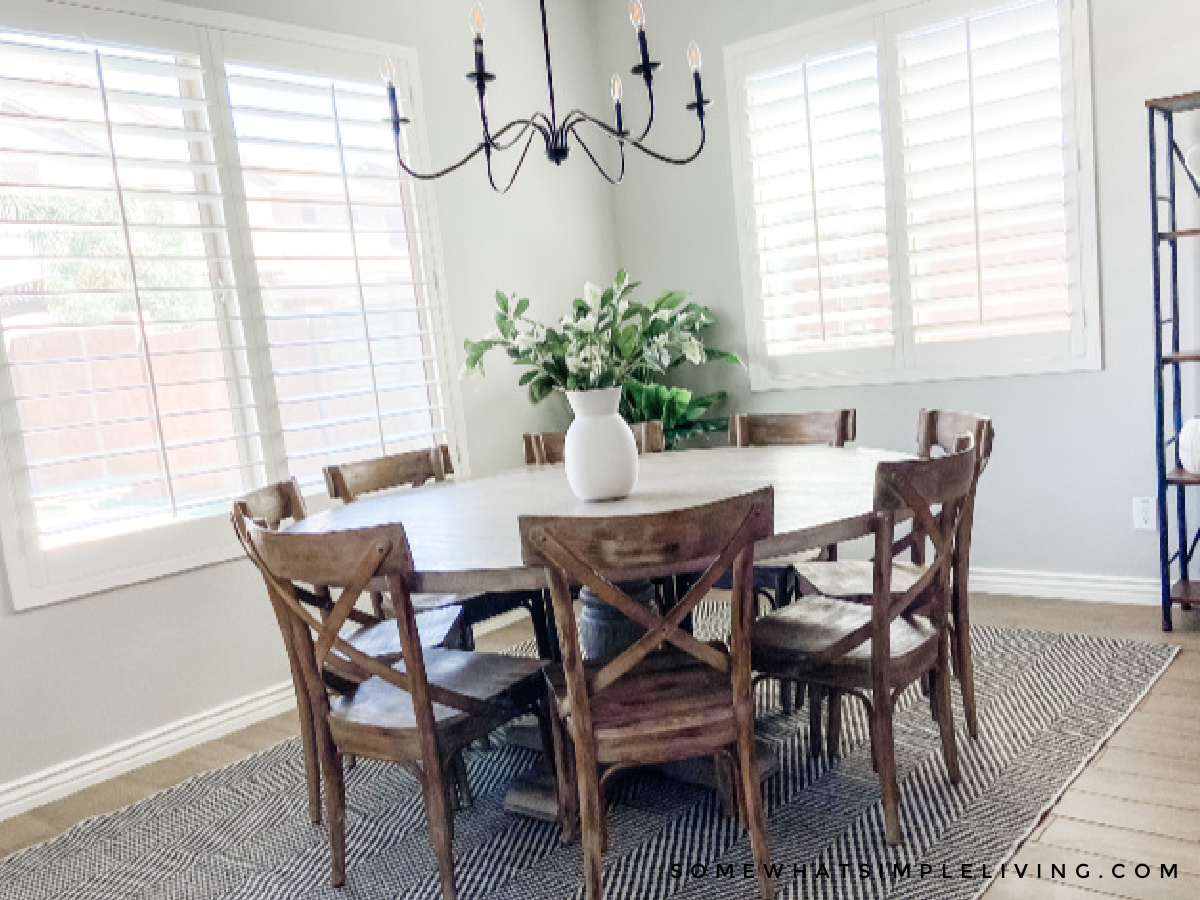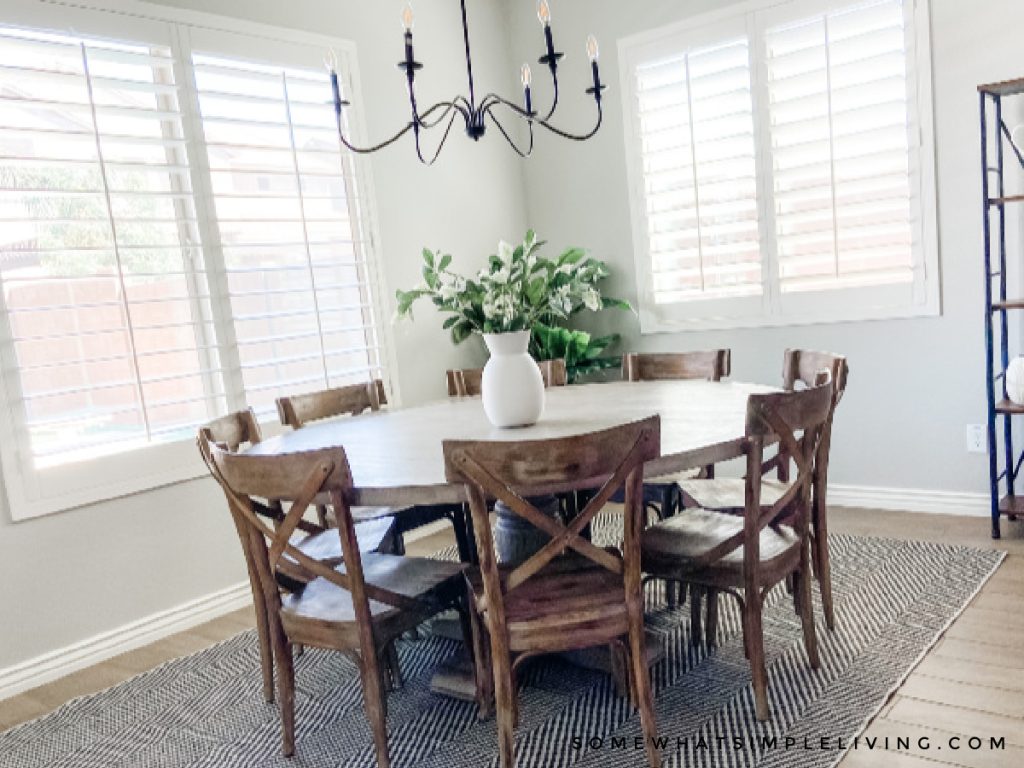 Needless to say, I am loving these updates!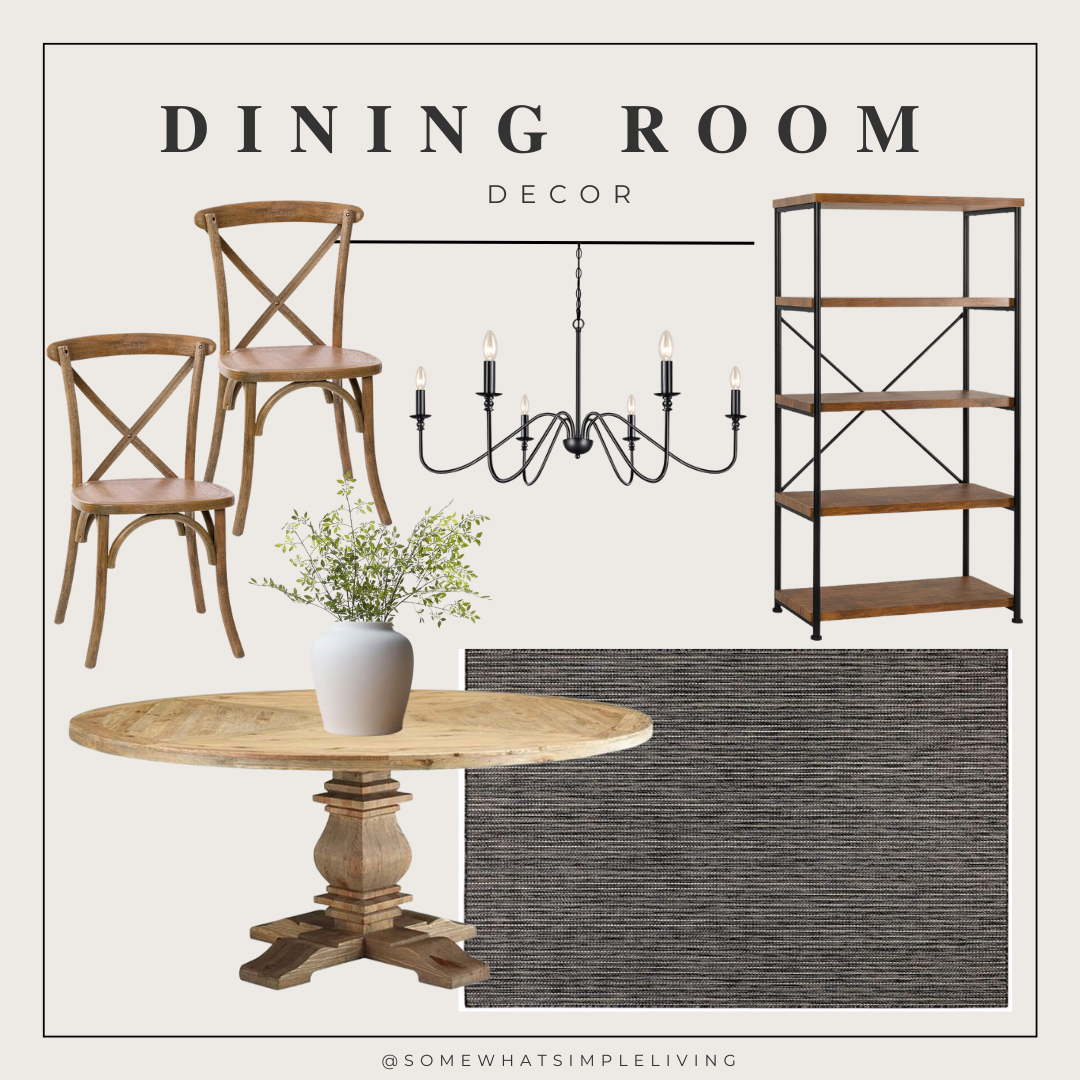 Click HERE for the links to the products I used, or items that are similar: