Decorate for Easter with this Easy Easter Banner that you can complete in 30 minutes or less!
Here are a few more Easter printables we think you'll love – Easter Bunny Paper Dolls, Easter Dice Game, and Easter Candy Bar Wrappers.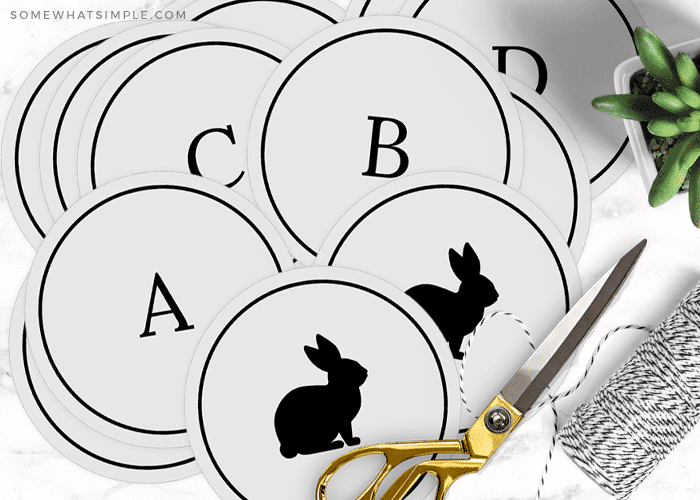 Holidays sure hit us in quick succession from February through April! I love celebrating and decorating, but life is busy, isn't it? This year I've tried to simplify our celebrations without sacrificing fun. I've cut down our holiday decor to just a few focal points in our home. This way things still feel festive, but the time and effort put into decorating and then cleaning up has been completely cut down. For me, as someone who still has a few Christmas decorations waiting to be put away still, this shortcut is a total win!
Easy Easter Bunny Banner
Banners are a great way to decorate a space fast and simple! This easy Easter Bunny Banner packs in all the handmade goodness of a big sewing project, but it's something you can make in 30 minutes or less. In fact, it's so easy you could whip one up for a friend too! We've included every letter of the alphabet, so you can spell whatever you'd like!
Happy Easter
Welcome Spring
Hop Hop Hop
… you get the idea! Here is how to make one for your home –
SUPPLIES –
Easter Bunny Banner PDF (download below)
white cardstock
color printer
scissors or a circle punch
twine or ribbon
tape
DIRECTIONS –
Download the Easter Bunny Banner PDF.
Print the letters you need, then grab your scissors or circle punch and start cutting!
Measure the length of the area you're hanging your Easter Bunny Banner with twine. Cut and tie a loop on both ends.
Tape the banner pieces onto twine starting from the middle and working out to get even spacing.
Now you're ready to hang your banner!
Grab Your Easter Banner File
Enter your name and email address below for immediate access to this file. A separate webpage will pop up with the file, so look out for it! Nothing is emailed!