Guest Welcome Basket + Printables
Make your guests feel extra comfortable with a special guest welcome basket, filled with toiletries and treats!
Here are a few crowd-pleasing recipes we love making when we have company over – Breakfast Casserole, Crock Pot Chicken Tacos, and Bacon-Wrapped Hot Dogs.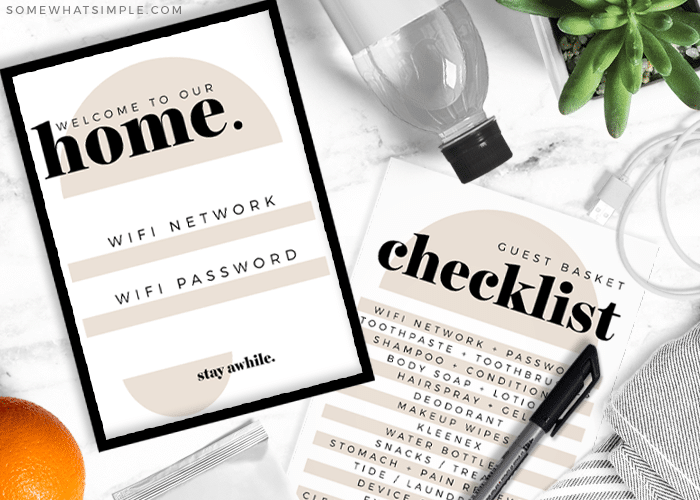 How to Make a Guest Welcome Basket
It doesn't take a lot of time or effort to create a special basket for your overnight guests! Even if you don't have an official guest room (I don't either!) a simple basket left on their bed filled with helpful items and special treats is always a good idea! Here is how to make one –
What to Put in a Welcome Basket –
Fill your welcome bucket with some simple items that would come in handy if they forgot their own, as well as some fun stuff they'll love. We have a free printable with allllllllll the different things to consider including, but here is a quick reference list –
Essentials
a small note / welcome message + the WiFi password (free printable below)
shampoo + conditioner
body wash + washcloth or loofa
toothbrush + toothpaste
face-wipes/makeup remover
pain reliever/aspirin
snacks – granola bars, fruit snacks, goldfish crackers, candies, etc.
water bottles
chewing gum
phone charger
Just for Fun
magazines
fun items for kids – small toys, DVDs, card games, etc.
a few stamped local postcards or locally made gift
Tips for Creating a Welcome Basket
Arrange all the goodies in your basket and place it in your guest room, or on the bed your guests will use. I usually set out bath towels next to the basket too! This is a special way to greet your guests so they feel comfortable as soon as they arrive.
Replenish all non-perishable supplies when your guests leave so it's ready to go the next time you need it. Having a stocked basket allows you to be ready at a moment's notice for any last-minute guests, so you don't have to spend time rounding up toiletries and other needed items.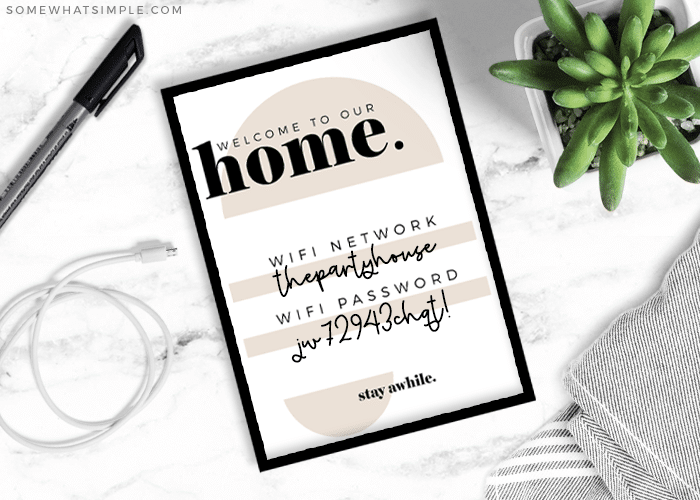 Guest Wifi Password + Houseguest Checklist
Enter your email in the form below to grab our Wifi password printable and our guest basket checklist for FREE!
Putting together a guest welcome basket doesn't take a lot of time and effort, but it definitely makes your family and friends feel extra special and welcome in your home!
Do you have any special way to prepare for guests?