How to Make a Pillow – 20 Pillow Tutorials
Pillows are a quick and easy way to update your sofa or bedding. Learn how to make a pillow with 20 favorite tutorials to make your room colorful, cozy, and unique!
Love this roundup? Be sure to check out our 10 Sewing Tutorials, 50 Simple Paper Projects, and 10 Flip Flops roundup for even more project ideas!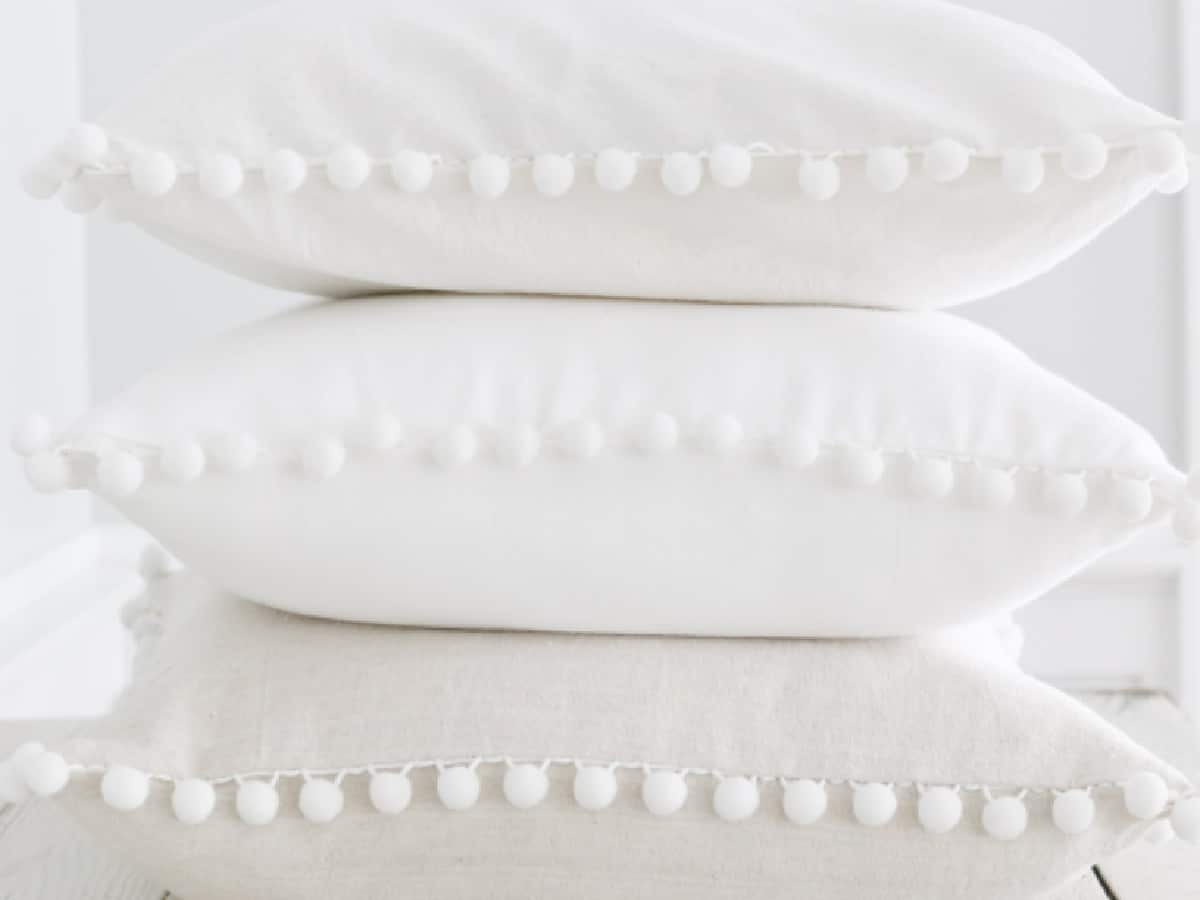 A well-made pillow can add color, character, and dimension to almost any living space. I personally love that you can change your pillows as often as you want and get a completely new home decor look with hardly any work at all!
Today I'm sharing 20 fun pillow tutorials that you can whip up in no time at all! These DIY Projects will work in any room of the house and can be made with your favorite pieces of fabric, too!
20 Favorite Pillow Tutorials
Click the links below to be taken to the full tutorials with instructions.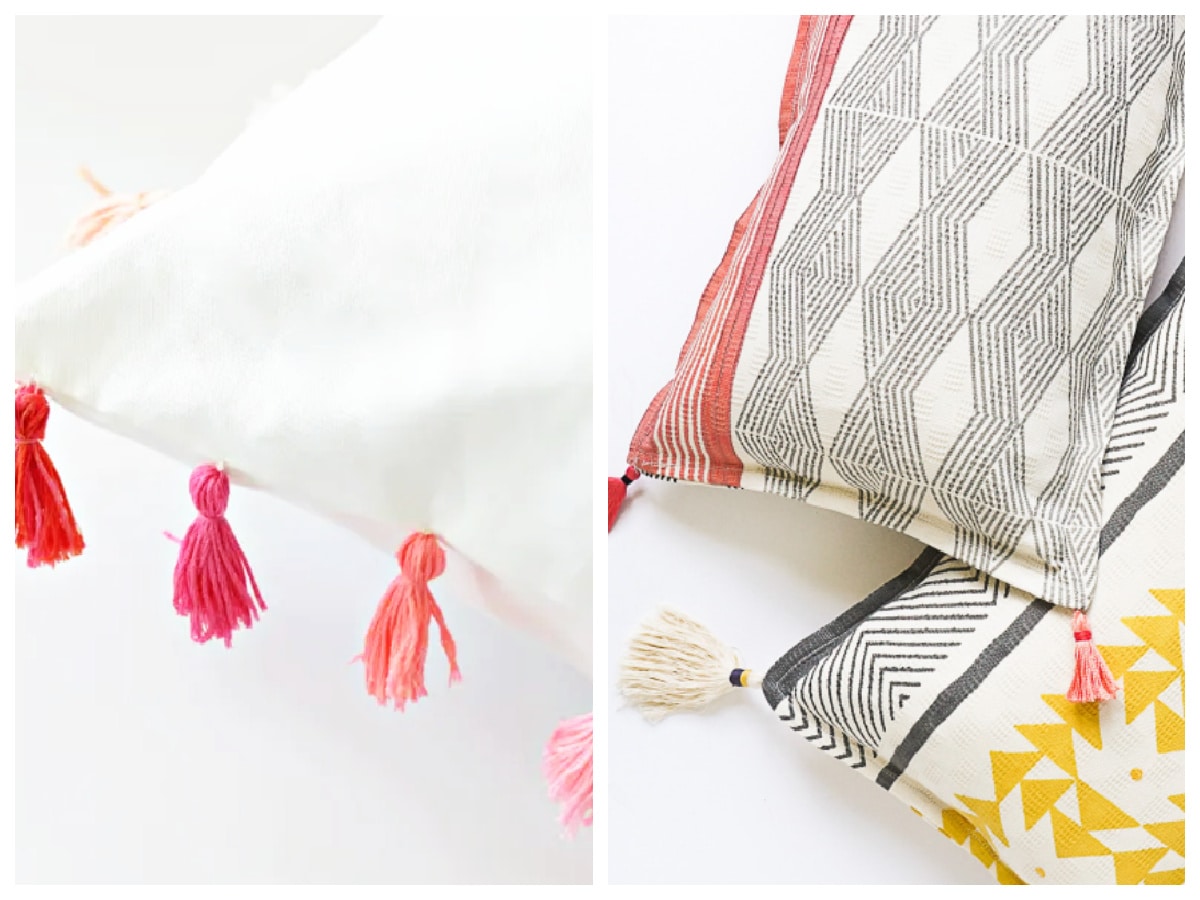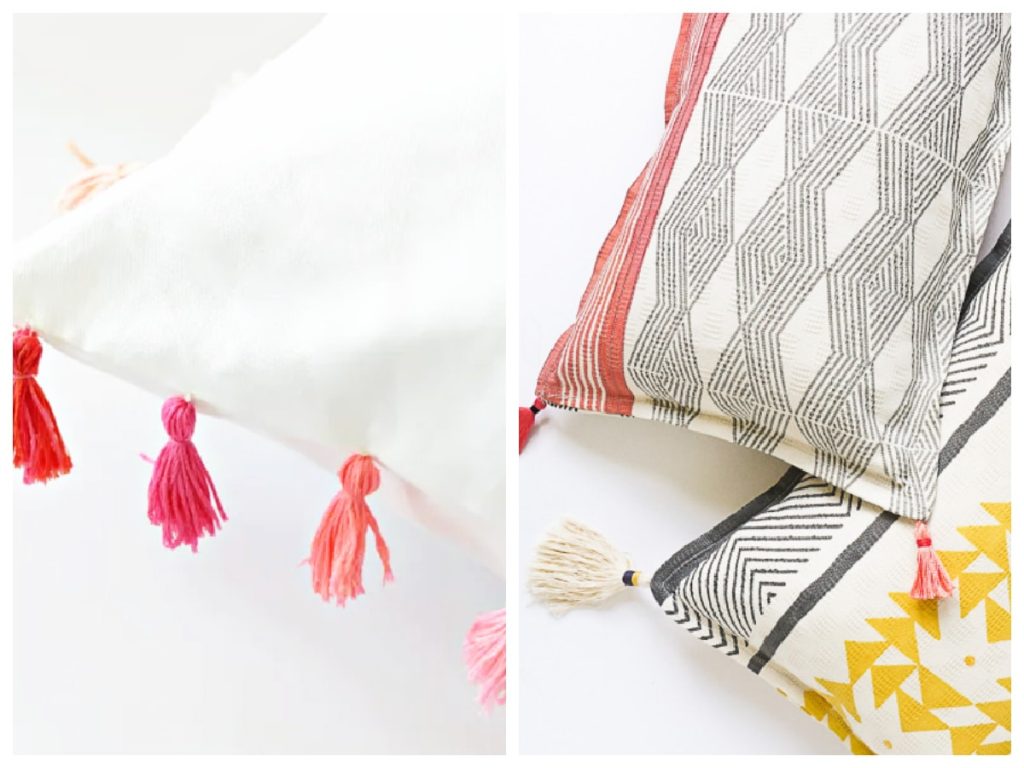 1 – Learn how to make an Ombre Tassel DIY Pillow in any colors you'd like! || M Loves M
2 – Add a little coziness to your space with these DIY Tasseled Throw Pillows. || Sugar and Cloth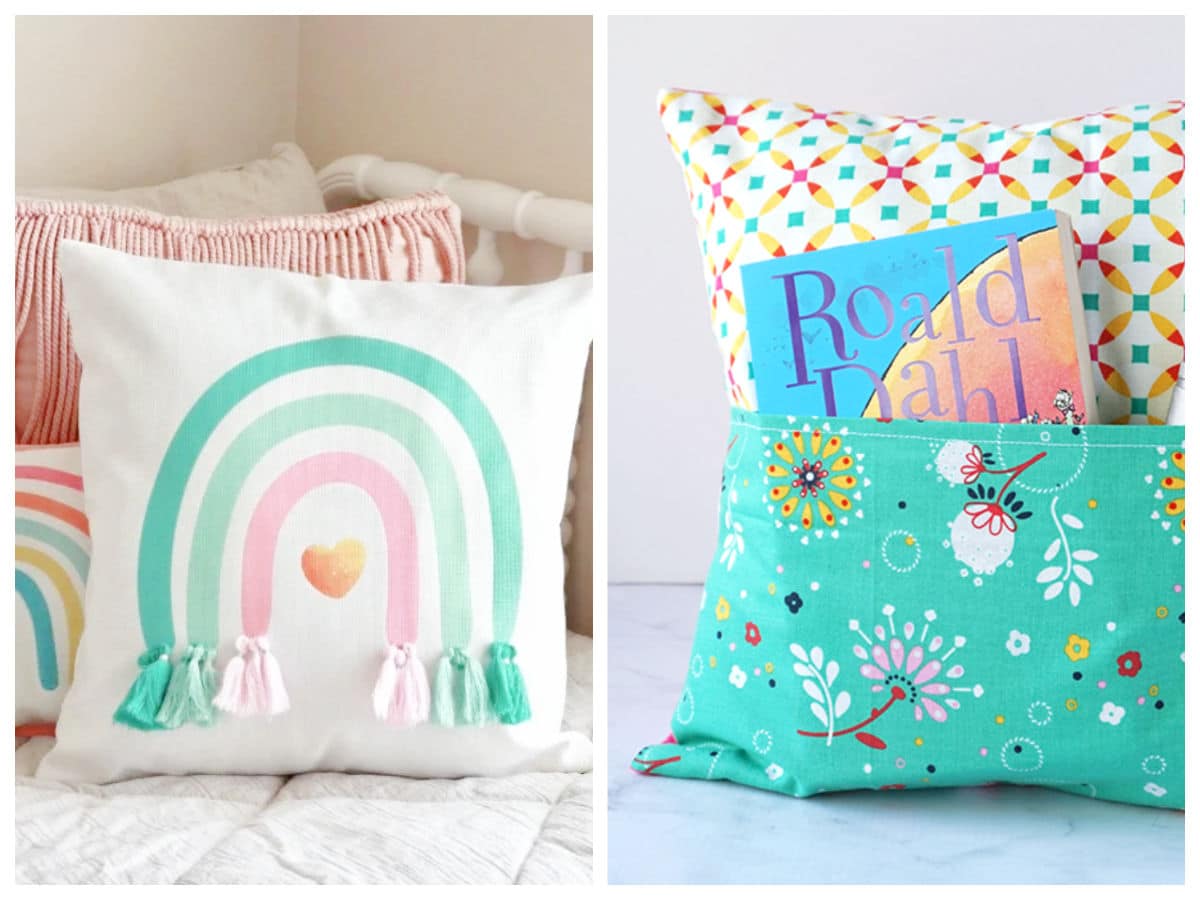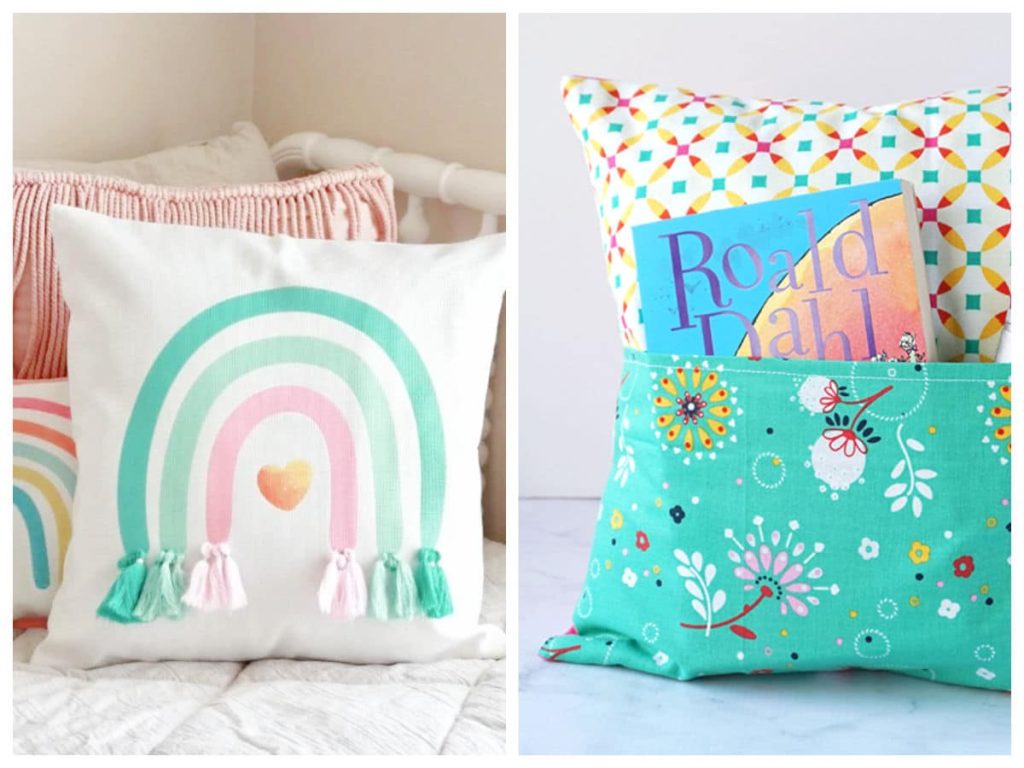 3 – These Tassel Rainbow Pillows would look perfect in any little girl's room, don't you think? || Everyday Jenny
4 – Bookworms will love their own Book Pocket Pillow Case! || Artsy Fartsy Mama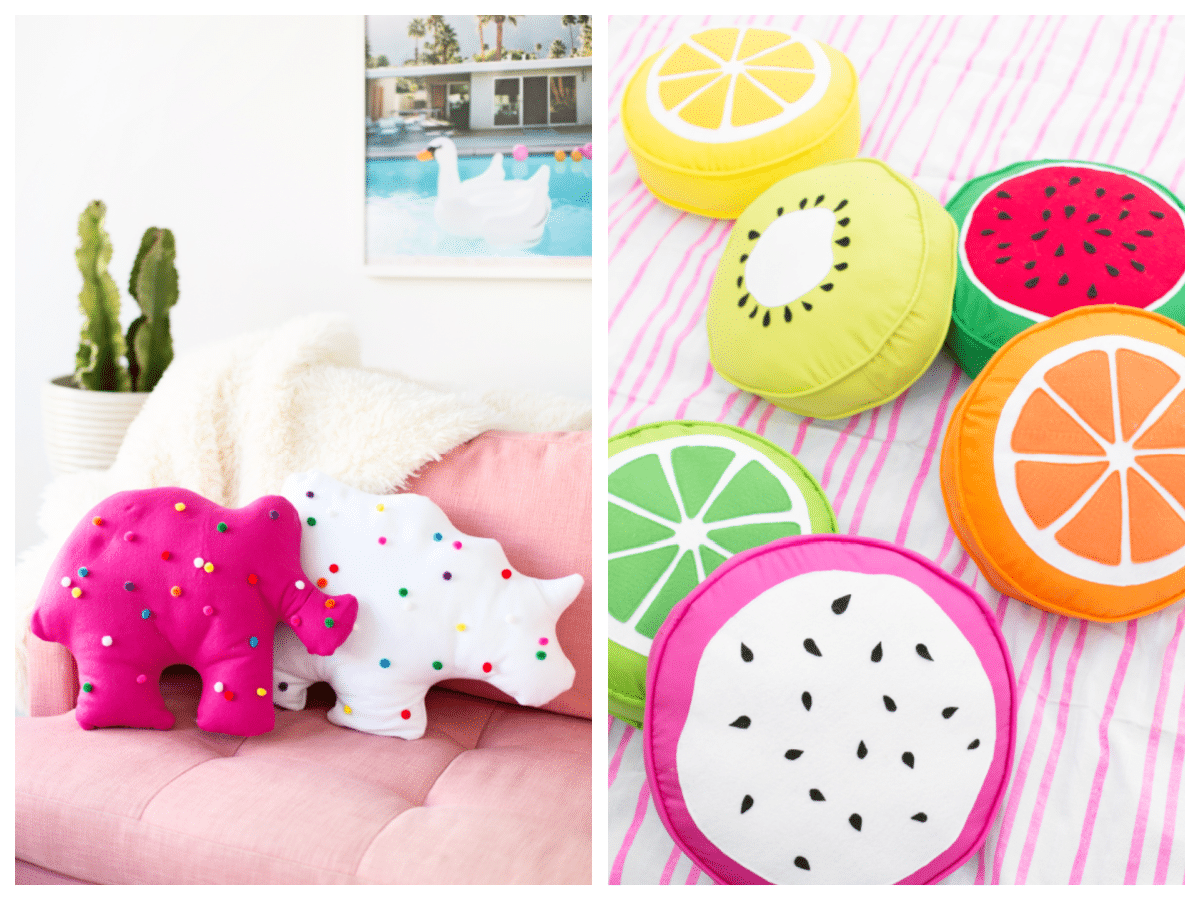 5 – These Animal Cookie Pillows are so stinkin' cute, and the colorful pom pom sprinkles on the front of the pillow make them over the top adorable! || Studio DIY
6 – These Fruit Slice Pillows would be awesome as floor pillows to add a little extra color to your space. || Studio DIY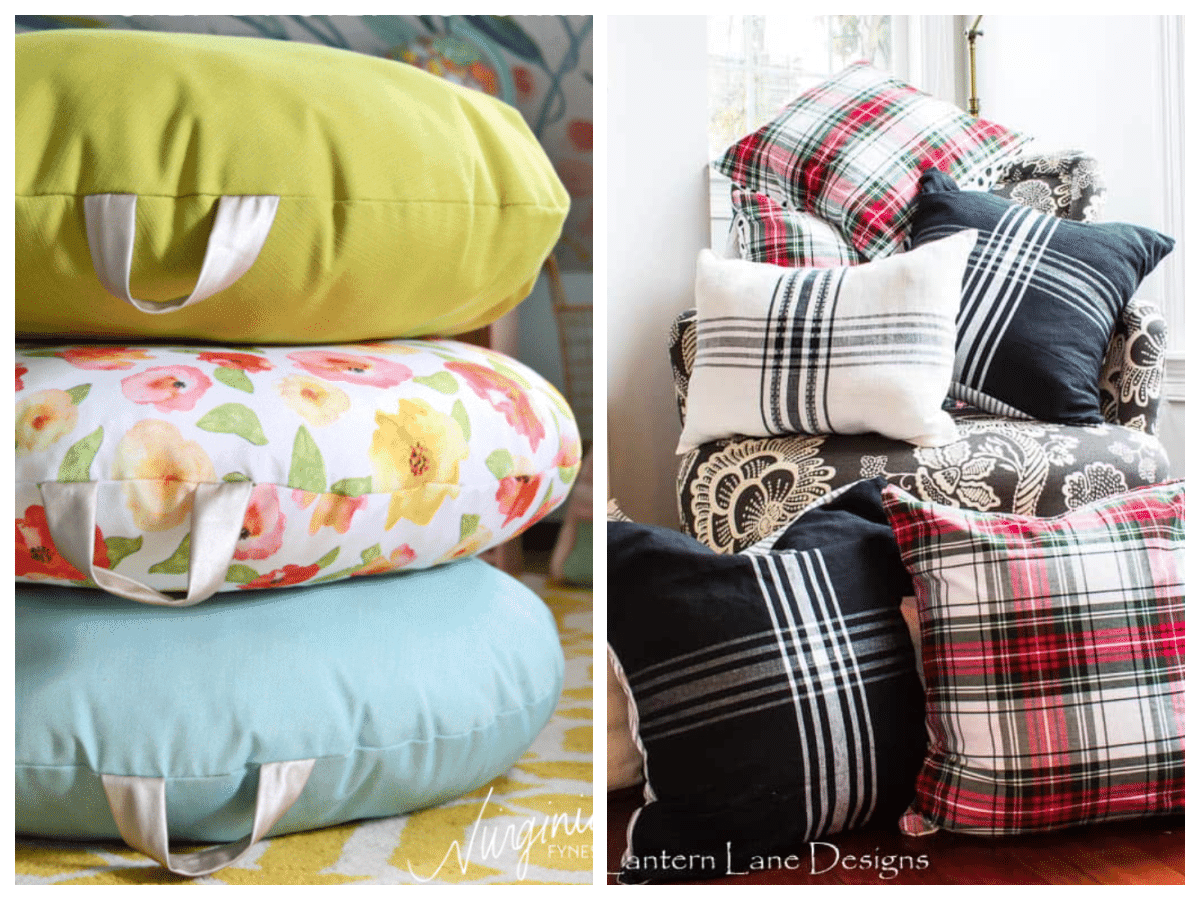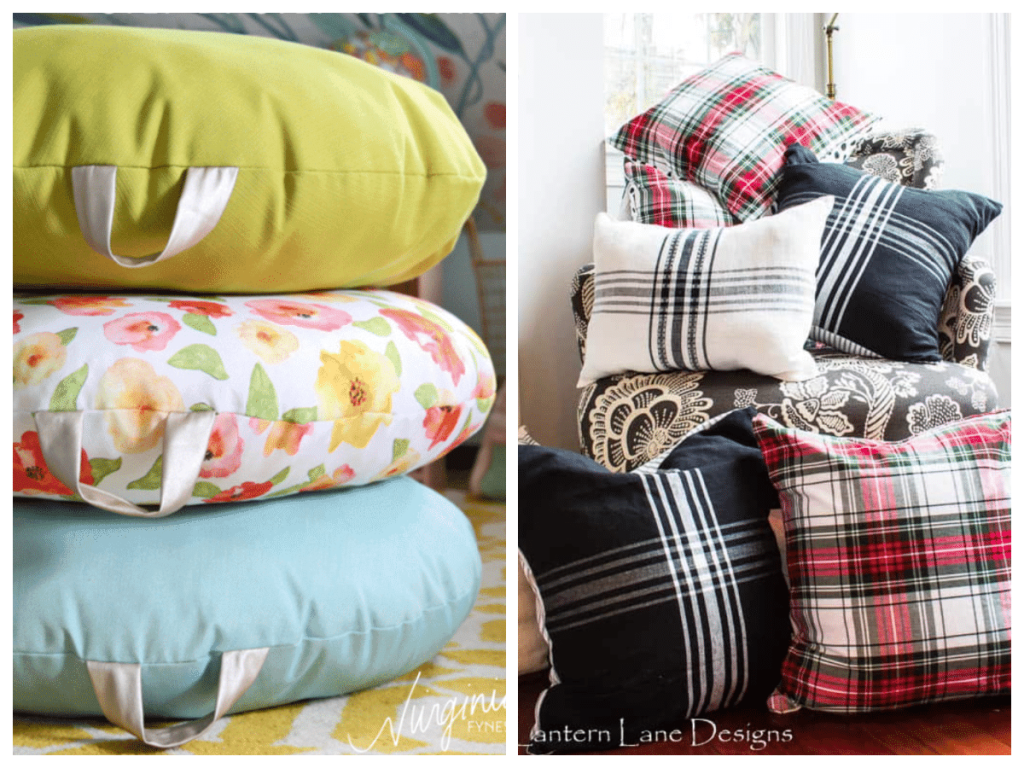 7 – If you don't have any Giant Floor Pillows in your home, make some, ASAP! || Fynes Designs
8 – These plaid Napkin Pillows only need two items – napkins and fabric glue! NO SEWING MACHINE NEEDED! Just add in a pillow insert and you're good to go! || Lantern Lane Designs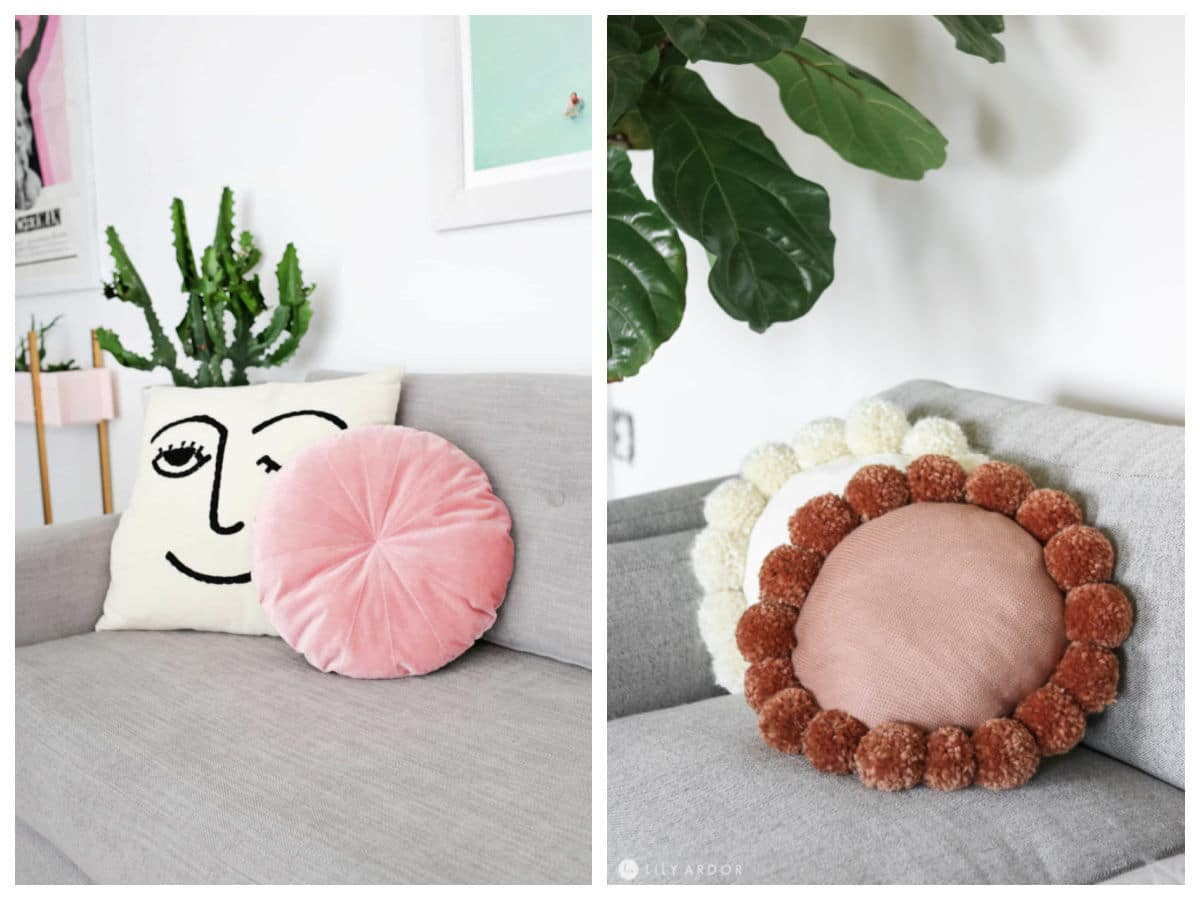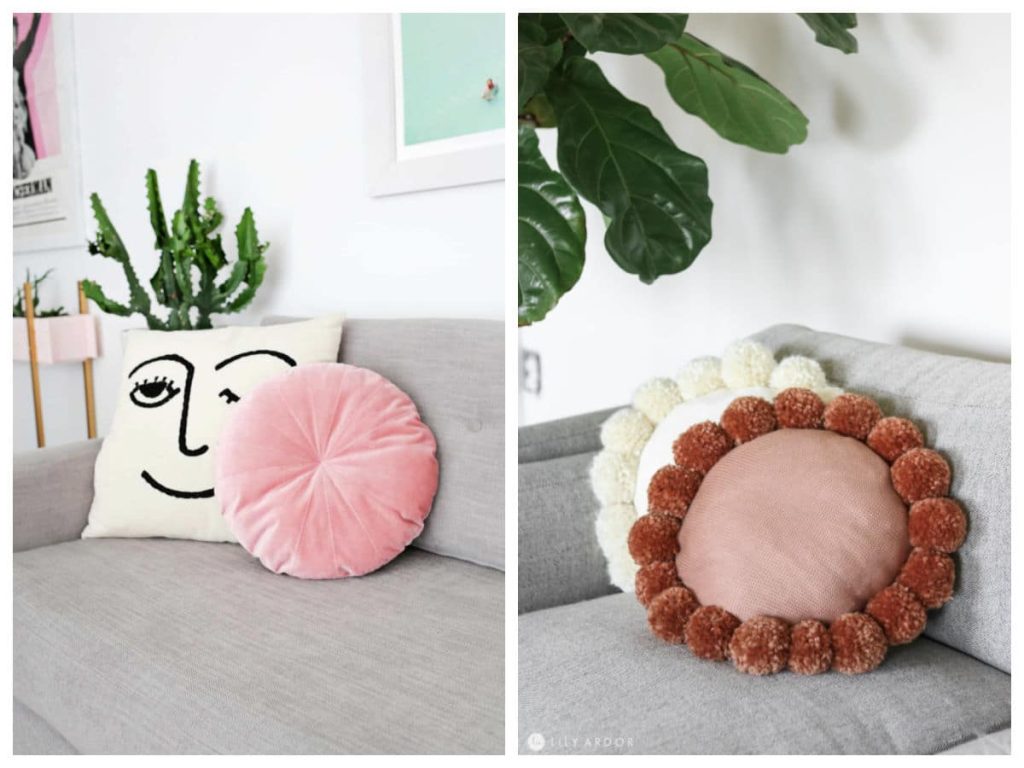 9 – How can such a simple shape look so pretty?! These Round Velvet Pillows look plush and fancy! || A Beautiful Mess
10 – These Round Pom Poms are a fun way to add some extra color and dimension to a pillow. They're made from a thrifted sweater – what a fun upcycle! || Lily Ardor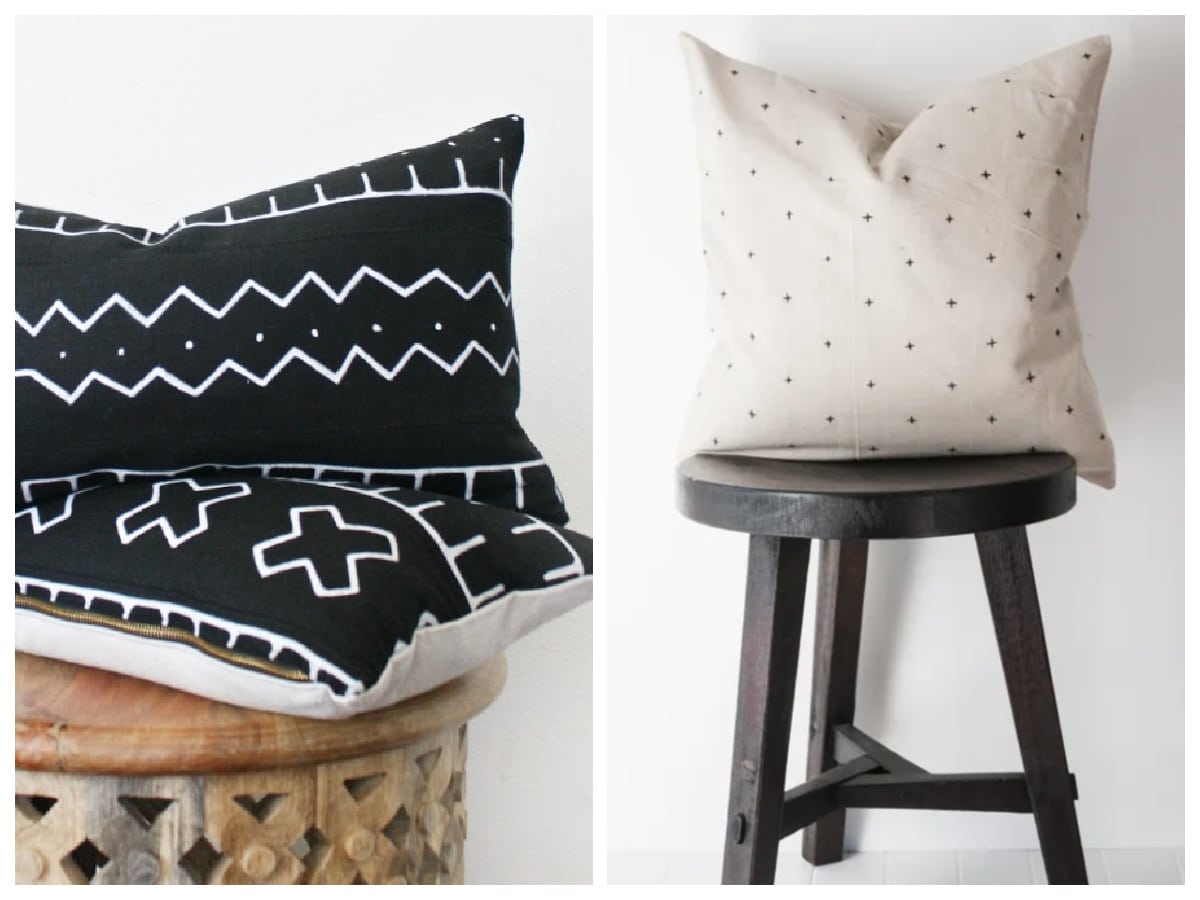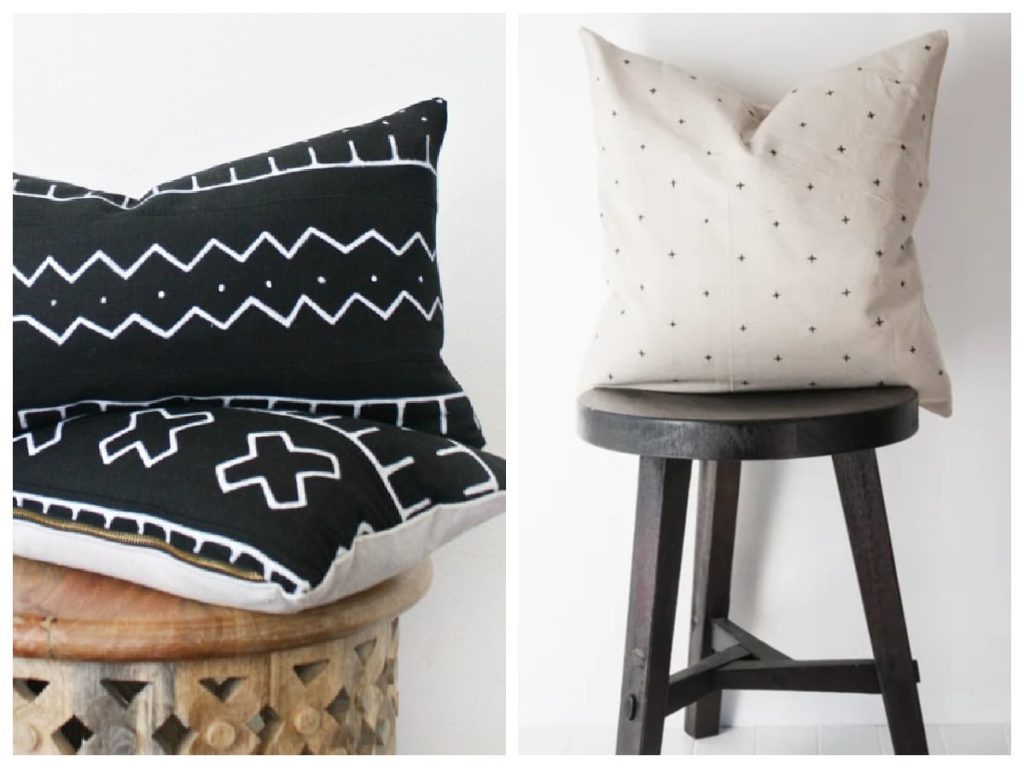 11 – DIY African Mudcloth Pillows use a fun technique that can be created from scratch or embellished on pre-made pillow covers. || Crazy Wonderful
12 – Modern Cross-Stitch Pillows are fun and simple to do, and I love the minimal look! Made with a simple needle and embroidery thread, this pillow is probably my favorite on this list! || Earnest Home Co.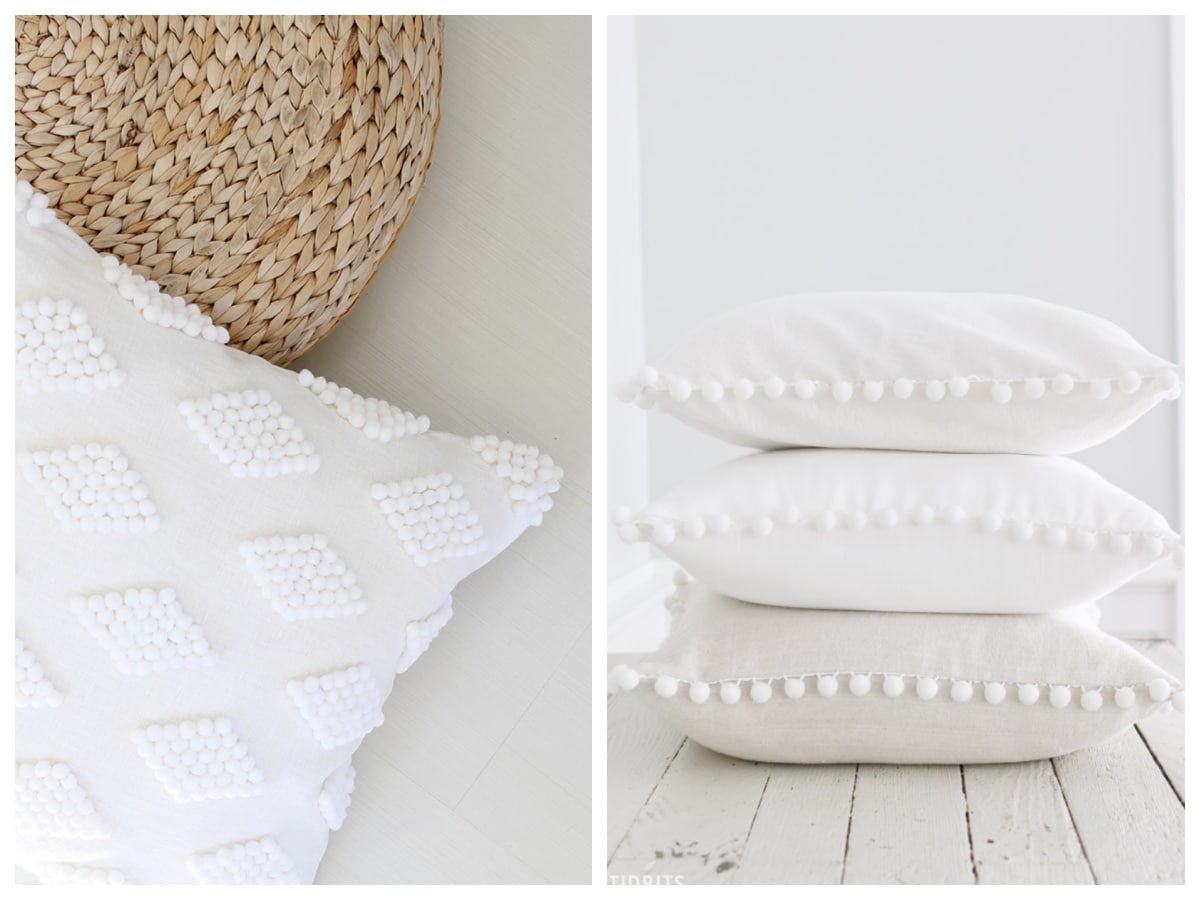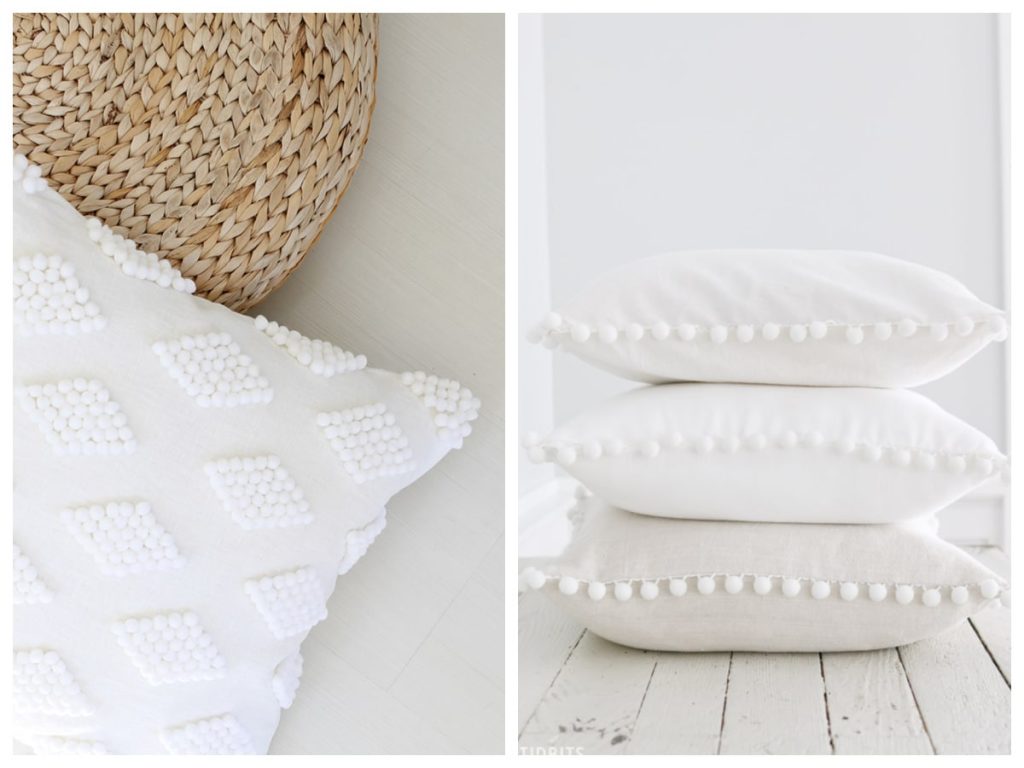 13 – This Modern Pom Pom Pillow is proof that felt pom poms can look sophisticated when added to a pillow cover! || Almost Makes Perfect
14 – This Pom Pom Trim Pillow is a great beginner-intermediate sewing project, and can be finished in just a couple of hours. || Tidbits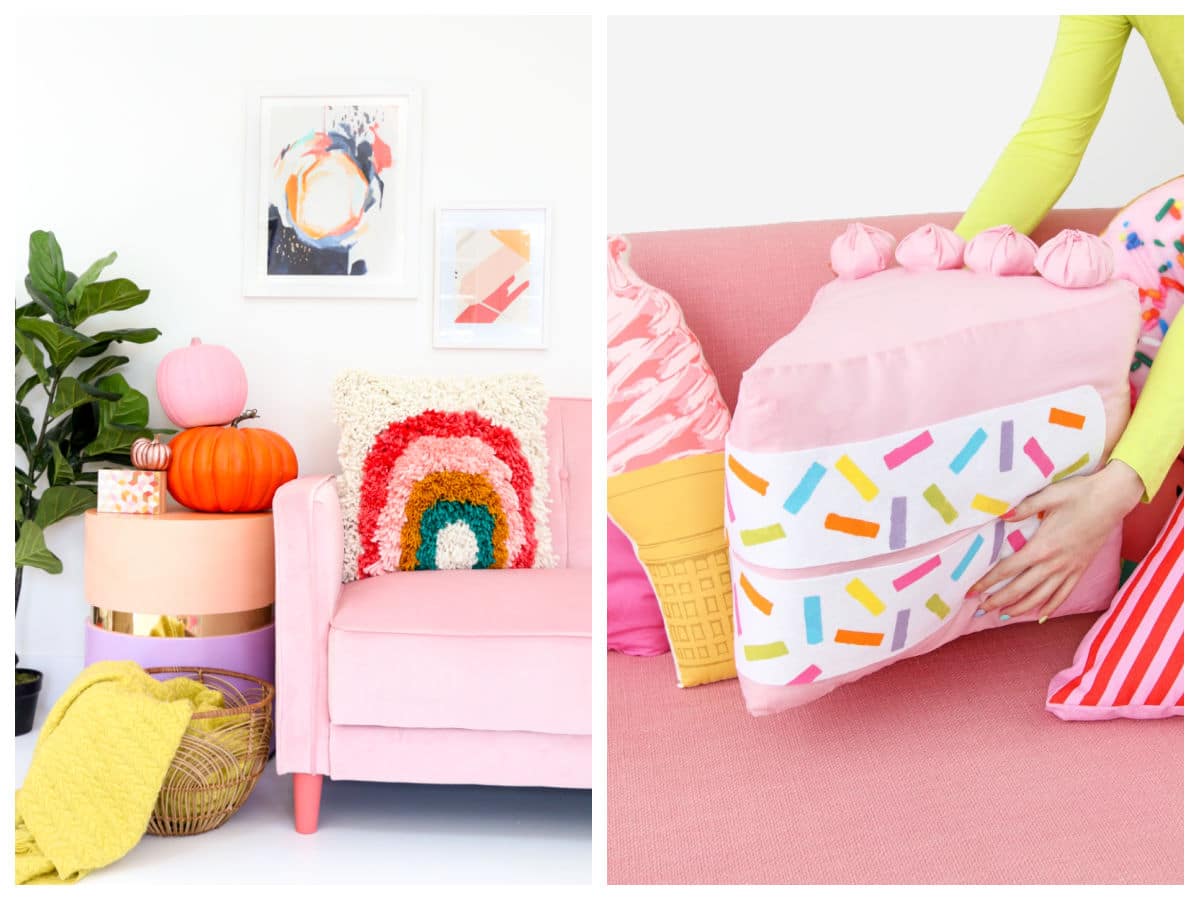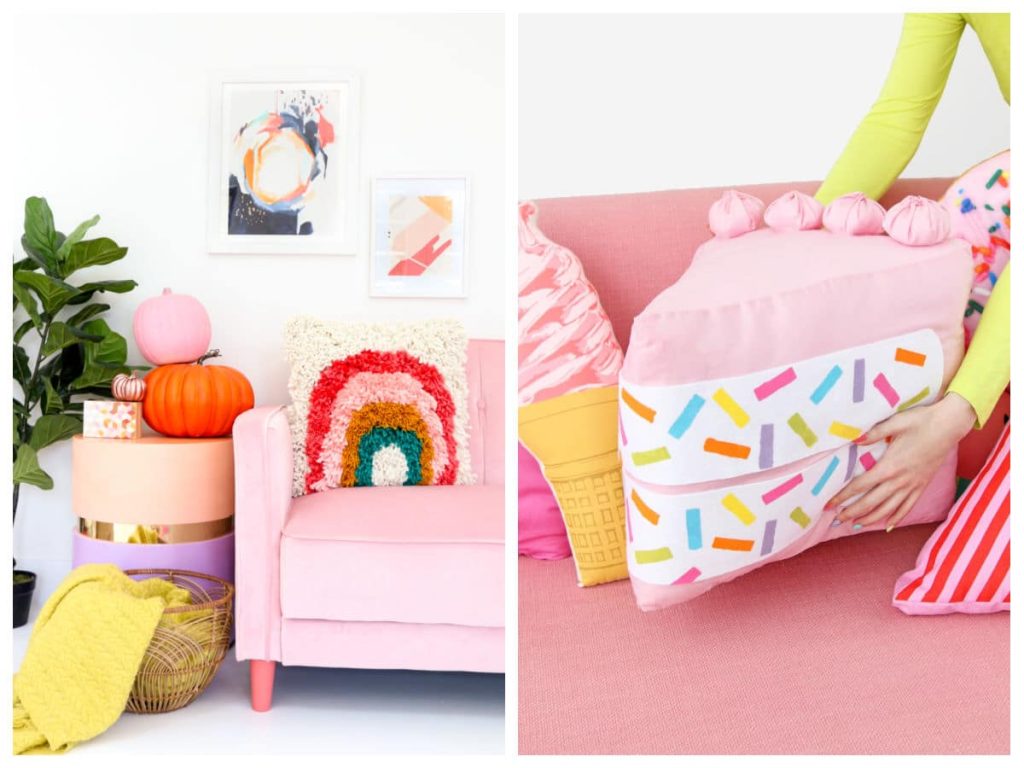 15 – This DIY Faux Latch Hook Pillow may look super complex and intimidating, but this darling yarn project be completed in one afternoon. || Kailo Chic
16 – A DIY No-Sew Funfetti Cake Slice Pillow is made with GLUE! Non-sewers will LOVE this one! || Aww Same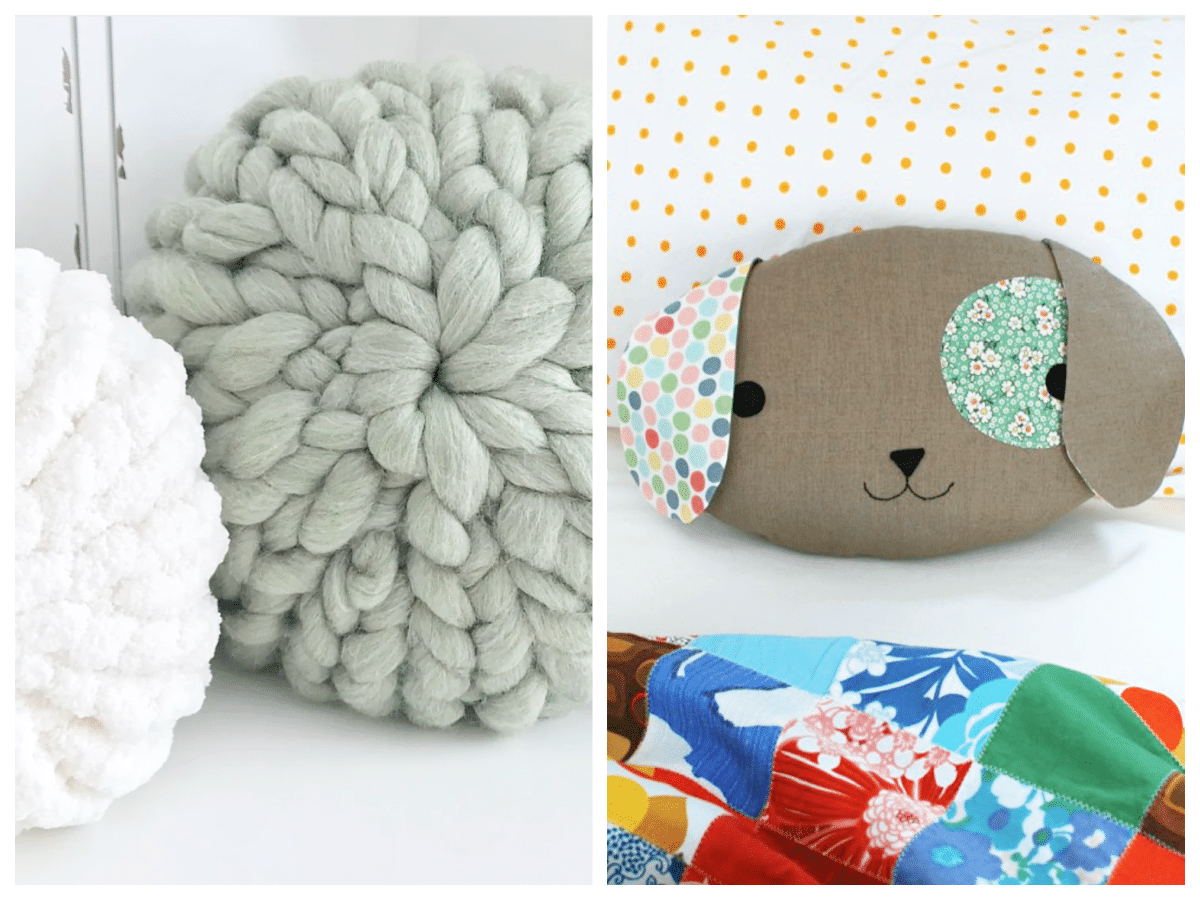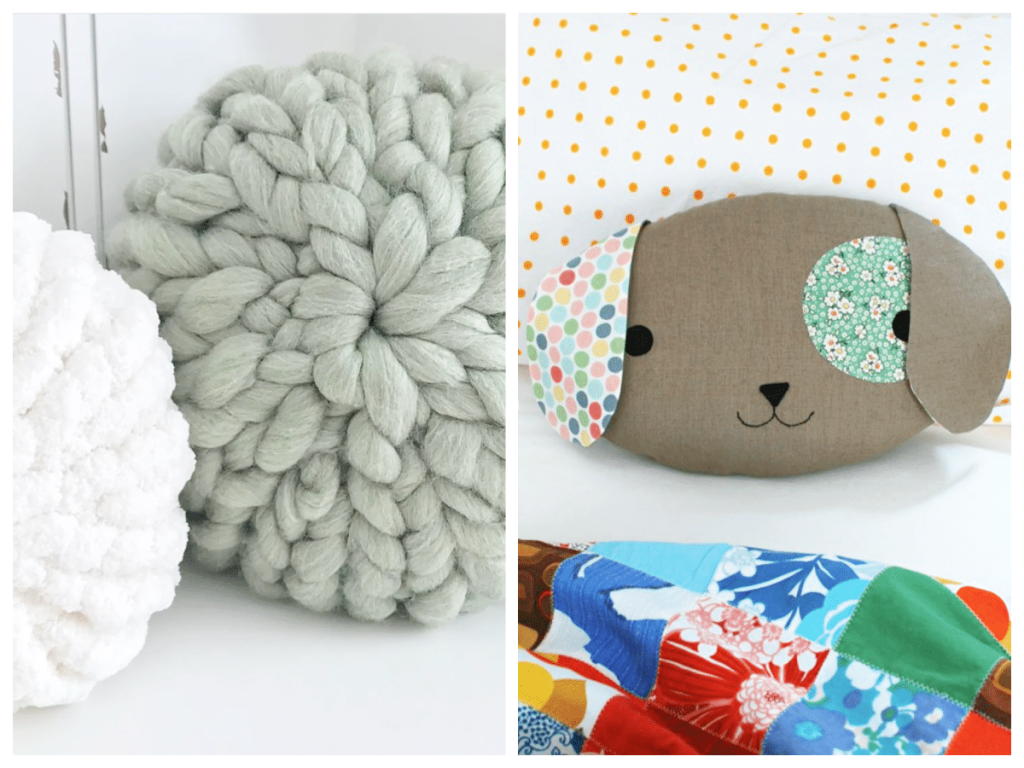 17 – These Hand-knit Pillows are soft and cozy! || She's Crafty and She Knows It
18 – This Fabric Puppy Pillow is simply adorable! From Tuts Plus
19 – I love this bright-colored Floor Pillow. The fabrics are darling! || We All Sew
20 – Grab this fun template and make your own Cactus Pillow || A Beautiful Mess