How to Organize Kid's School Work
School is starting soon and it's time to think about how to organize kids' school work. This file box is the easiest and simplest solution ever!
Here are a few more organization ideas we think you'll love – Craft Supply Organization, Printable Budget Envelopes, How to Organize Manuals and Warranties, How to Organize Toys, How to Organize a Utility Closet (and make it pretty!), and Organizing your 72 Hour Kit.
School Work File Box
This organizational idea is an absolute favorite of mine. I can't take the credit for it because I first saw this idea from my sister in law and decided to start using with my children. It is a system we have been using for 9 years now, and it is keeps everything in one place! It's a simple and easy way to organize all of the school papers you want to keep forever!
TIPS –
While you could definitely use a milk carton crate or those cardboard bank boxes, I love the idea of something that will keep papers protected from any water or rodent damage. #HeavenForbid
Our school interview printables would be the perfect addition to each year's file!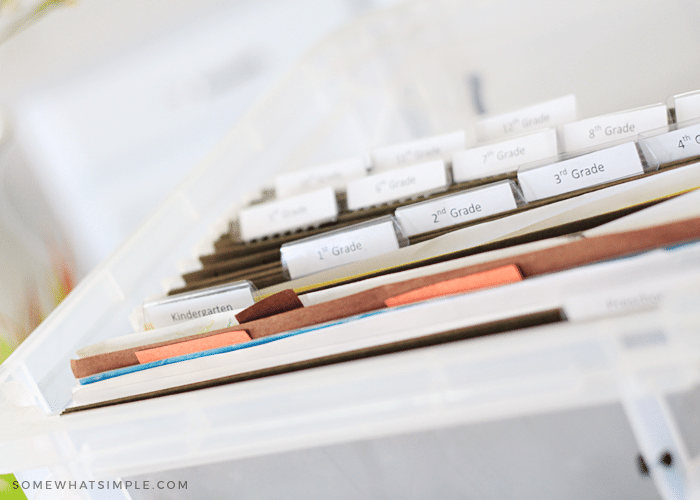 The Easiest Way To Organize Your Kids School Work
SUPPLIES –
plastic file box
hanging file folders
printer + paper
Word or paint computer program
DIRECTIONS –
First, make your labels. Using a word or paint program, type out all the grades and make a name label for the front. I added a simple black lined box to Mason's label – I love how clean, simple, and beautiful it turned out! The font I used is called Montserrat.
Print off your tabs and name labels.
Add your hanging file folders and label them with each grade.
Start adding all those school papers!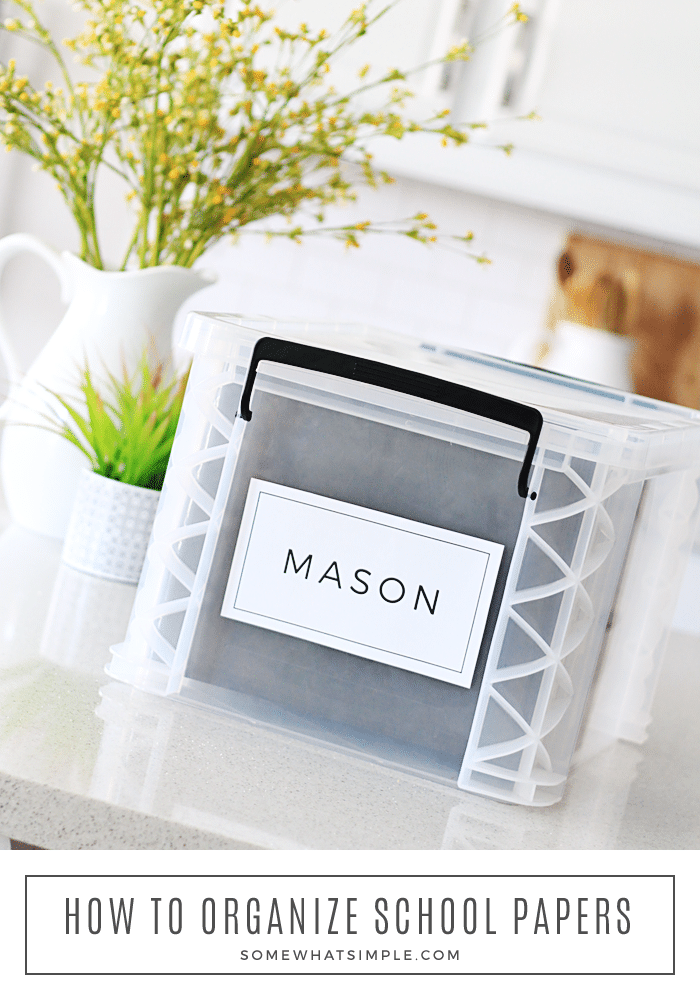 This post was originally published in 2013, but was updated in 2018 with new images.