The Mess Monster "Toy Jail"
Teach your kids how to clean up after themselves and be responsible! Toys that are left out get placed in Toy Jail and can only be rescued by doing a chore of mom's choice! It's genius!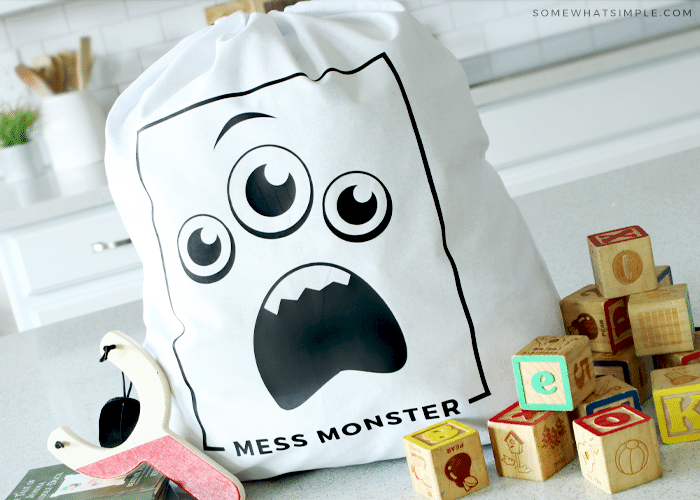 I'm sure I am not the only mom out there who has to tell her kids a dozen times to clean up their toys, their shoes, their dirty socks, etc. Sometimes, after an hour of harping on them, it seems easier to just clean up the mess myself!
My husband told me that his mom used to have a big bag that she used to collect all the stray items that were left out around the house. She'd keep everything in her bag until her kids earned them back by doing extra chores or helping in other ways. I loved this "Toy Jail" idea, so I set off to make my own!
I named ours "The Mess Monster", and so far, he's been suuuuuuper helpful around here! 😉
Here's a quick little poem I wrote a poem all about him –
You left it out and guess who came –

The Mess Monster, you know his name!

He picked your stuff up, one by one,

And now they're his 'til chores are done.
…and here's how to make your own –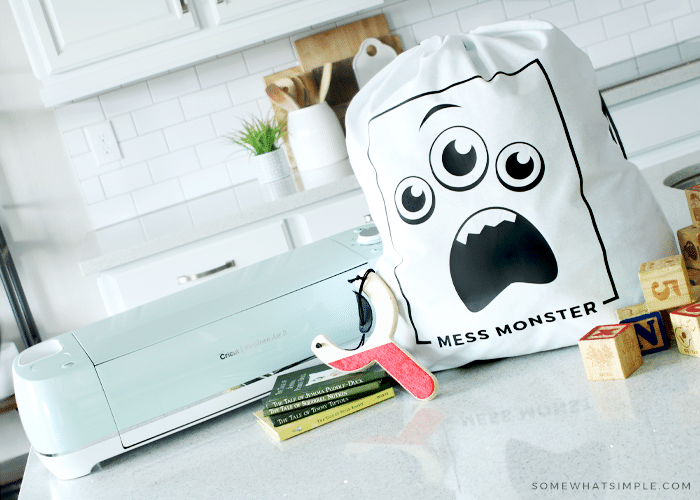 Time needed: 20 minutes
How to Make a Toy Jail

MATERIALS – 
* If you don't have a Cricut, you can use a box instead of a sack. Then, print our Monster Face on some paper and tape it to the box.

– Linen Sack
– Monster Face File (download below)
– Iron-On Vinyl (I used black)
– Cricut Machine
– Iron or Cricut Easy Press

DIRECTIONS –
Grab our Monster PDF

Download the free Monster PDF and upload it to Cricut Design Space.

Cut the Iron-On

Using your Cricut, cut the image out of the IronOn. Make sure you cut the mirror image of your monster design!

Weed the Iron-On
Secure your Design

Place your design face-down onto your linen sack and iron it to secure it.
Mess Monster Download
To download a copy of our Mess Monster PDF, enter your name and email address in the form below. A new page will load with the file so you'll have immediate access!
Have fun!!!