How to Easily Clean Your Iron
How to clean your iron in 3 simple steps using 3 basic household ingredients you might not have thought to use!
Here are a few more cleaning + organizing ideas we think you'll find helpful – How to Organize Kid's School Papers, Bathroom Cleaning Checklist for Kids, and Cleaning Checklist Cards.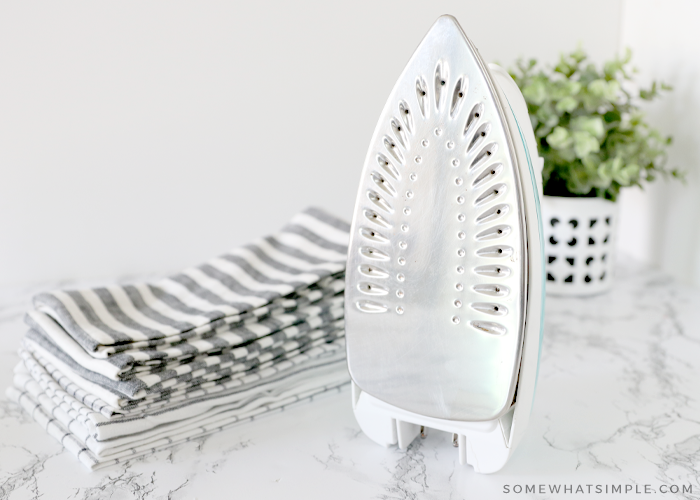 My iron had definitely seen better days, so I set out to find the best way to clean it. I tried several methods that I found online that promised to make it sparkling like new, but only one method was both easy to do (very little elbow grease involved!) and super effective!
This method involves making a cleaning paste with baking soda, vinegar, and toothpaste. My iron has never looked better and it's no longer transferring "gunk" to my clothes when I use it – YAY! 🙂
If you notice stains and residue on the bottom of your iron, and if your iron is dragging or sticking to your clothes, it's definitely time to clean it! Here's how –
How to Clean Your Iron in 3 Easy Steps
YOU WILL NEED –
baking soda
white vinegar
toothpaste (I heard the gel toothpaste won't work, but I've personally never tried it.)
scrubbing sponge with an abrasive side
small bowl + spoon
toothpick + Q-Tips, optional
clean damp rag
dirty iron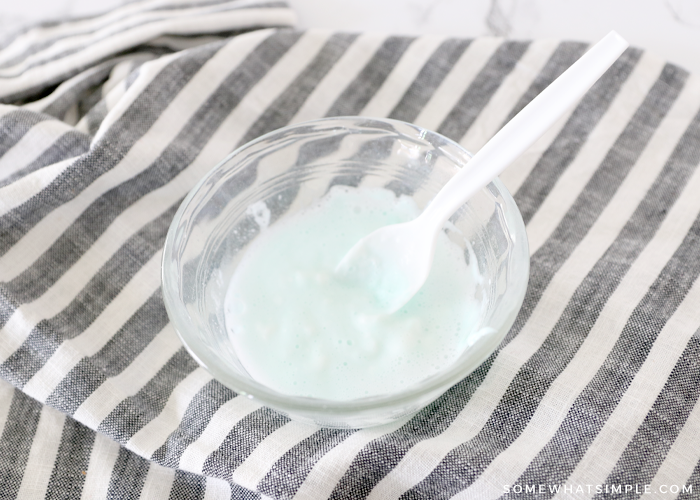 DIRECTIONS –
Make sure the iron is unplugged, completely cooled and the water tank is empty.
Mix a couple of tablespoons of baking soda with a dollop of toothpaste and a splash of vinegar to form a paste. (We're getting really technical here with these measurement terms!) Add more or less of each ingredient until it is about the consistency of shaving cream, maybe a little more thinned out.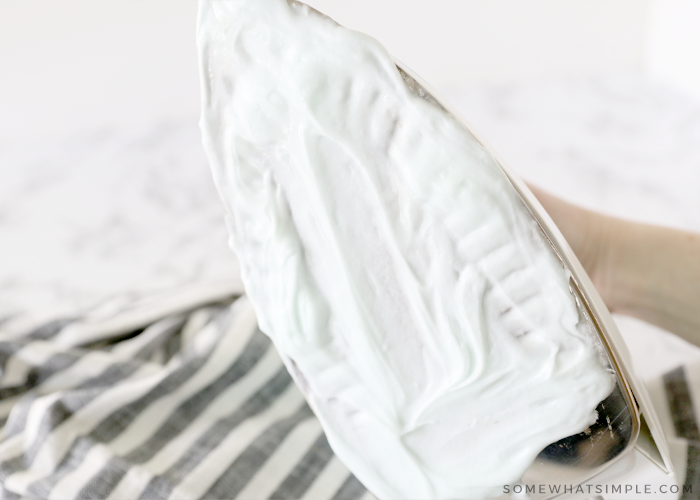 Spread the toothpaste mixture evenly over the metal plate of your iron and then let it sit for 15-20 minutes. Depending on how dirty your iron is, you can let it sit for more or less time.
I noticed that the buildup on my iron started to wipe clean easily after just a few minutes, but I let it sit for the full time just to make sure it was working on the most stubborn of parts.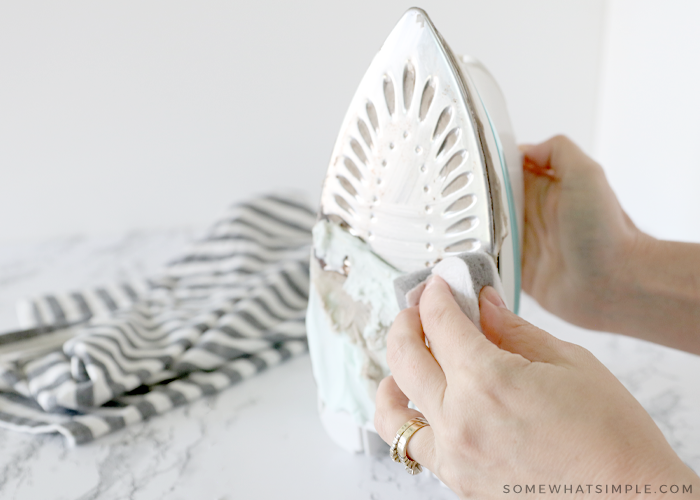 Wipe away the paste with your sponge, scrubbing as needed. I didn't need to scrub much at all, but there were a couple of spots that needed a little more attention.
Wipe the plate with a clean damp cloth to make sure all the residue is gone. You can use a toothpick or cotton swab dipped in vinegar to clean out the steam holes.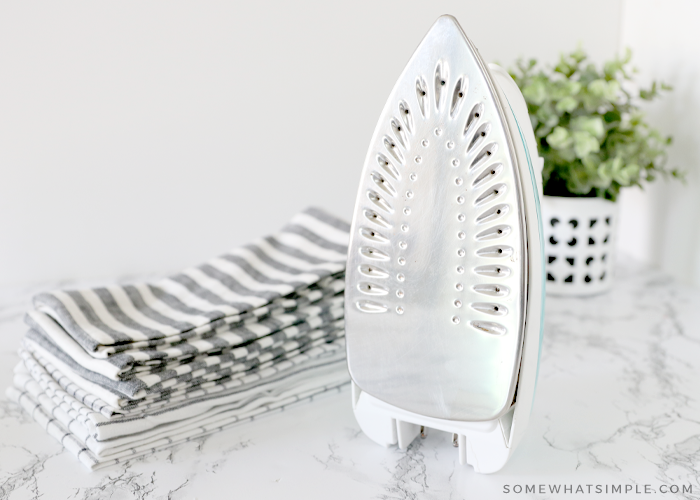 I had a decent amount of the paste stuck inside those holes after this – so if you experience the same, rest assured your iron is not ruined!
To easily clean the steam vents, add equal parts vinegar + water to the water reservoir. Iron a clean towel and use the steam feature to expel the leftover paste. The residue will easily fall out of the vents with the vinegar, and your iron will be as good as new! Wipe up any paste left on your iron with a clean rag and you're good to go!
Happy cleaning!