How to Organize Manuals + Warranty Info
How to organize manuals and warranty information with a notebook system that's easy, quick, and affordable, too!
Here are a few more organizational ideas we think you'll love – Linen Closet Organization, How to Organize Kid's Schoolwork, Basket on the Stairs, and Portable Homework Caddy.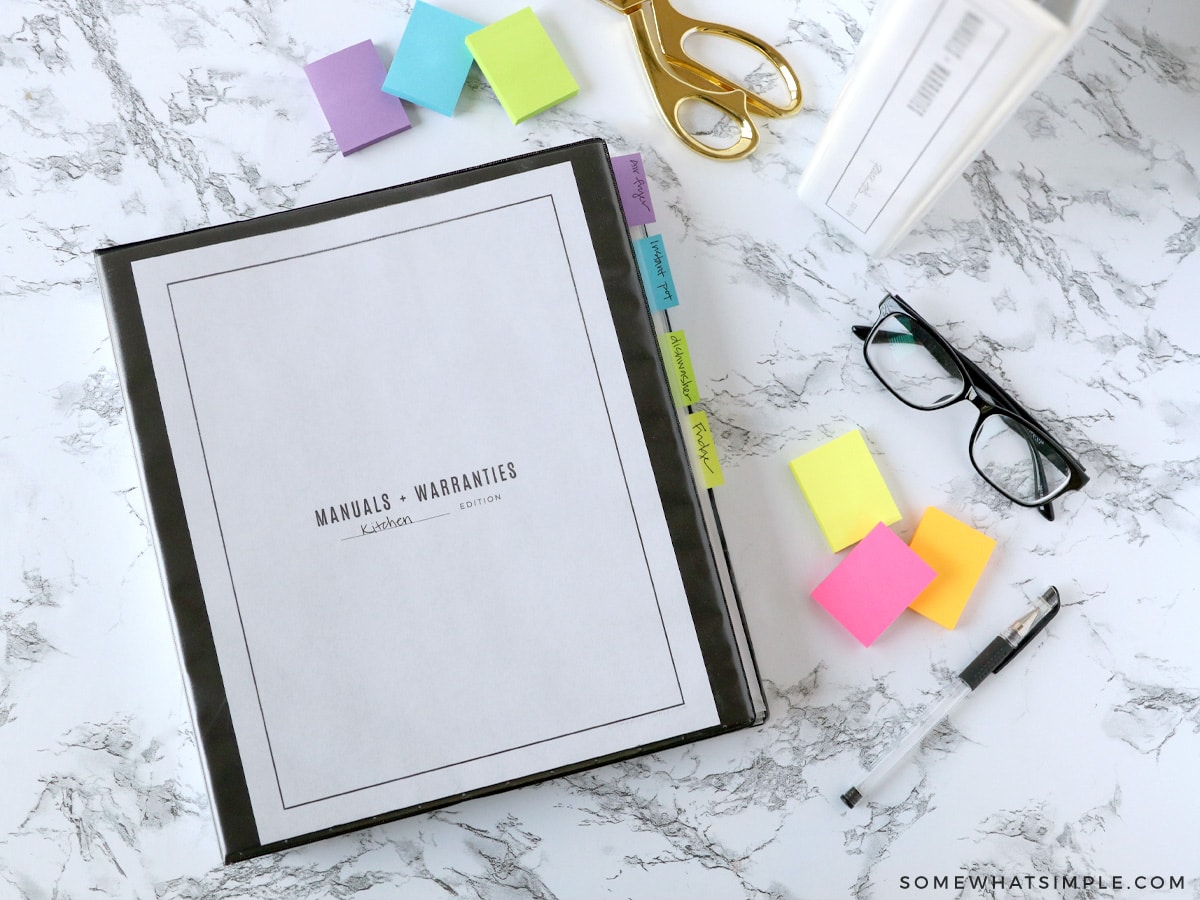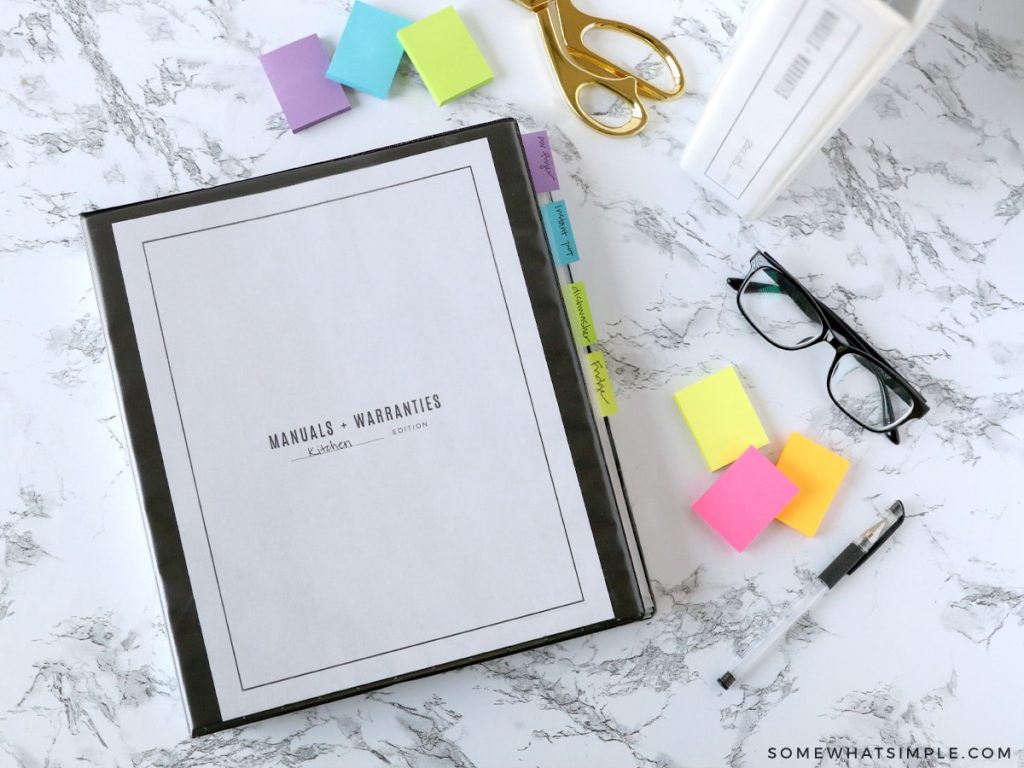 I use to store all my manuals and warranties in a file cabinet, and even though this seemed like a logical place to store things when I started out, it actually wasn't a good system at all. I would STUFF every pamphlet into the designated folder and pretty soon that file was completely packed and overflowing. It became unattractively messy, and it was a pain to find information when I needed it.
Years ago I swapped my method – instead of using a bulky file cabinet, I now use sleek 3-ring binders that sit pretty on a shelf. Not only does this system allow me to quickly find the pamphlets I need, but it also makes it easier to clean out and toss manuals that are no longer needed in my home.
Today I'm going to show you how this system works, and I have some free printables for your binders, too. It's time to clear the paper clutter from your drawer, counter, or cupboard, and get organized once and for all!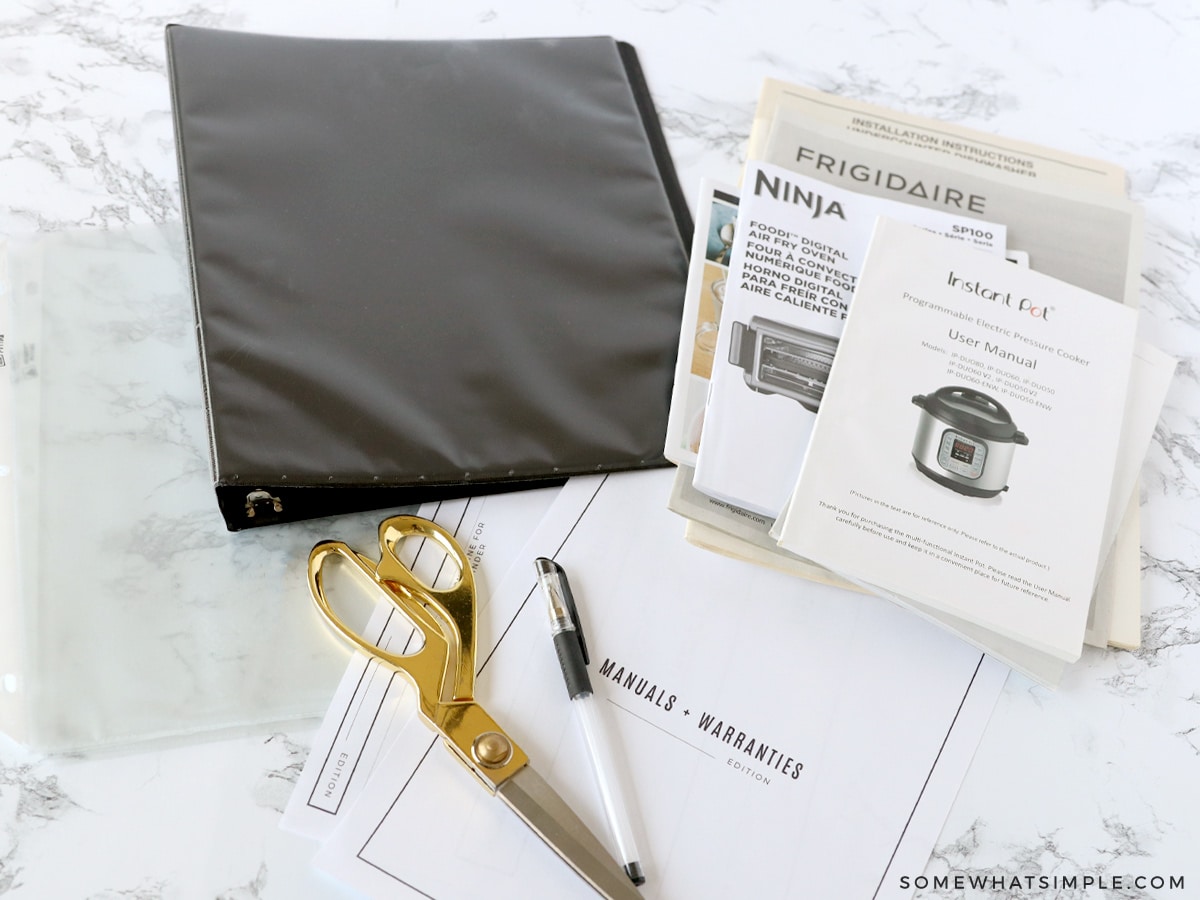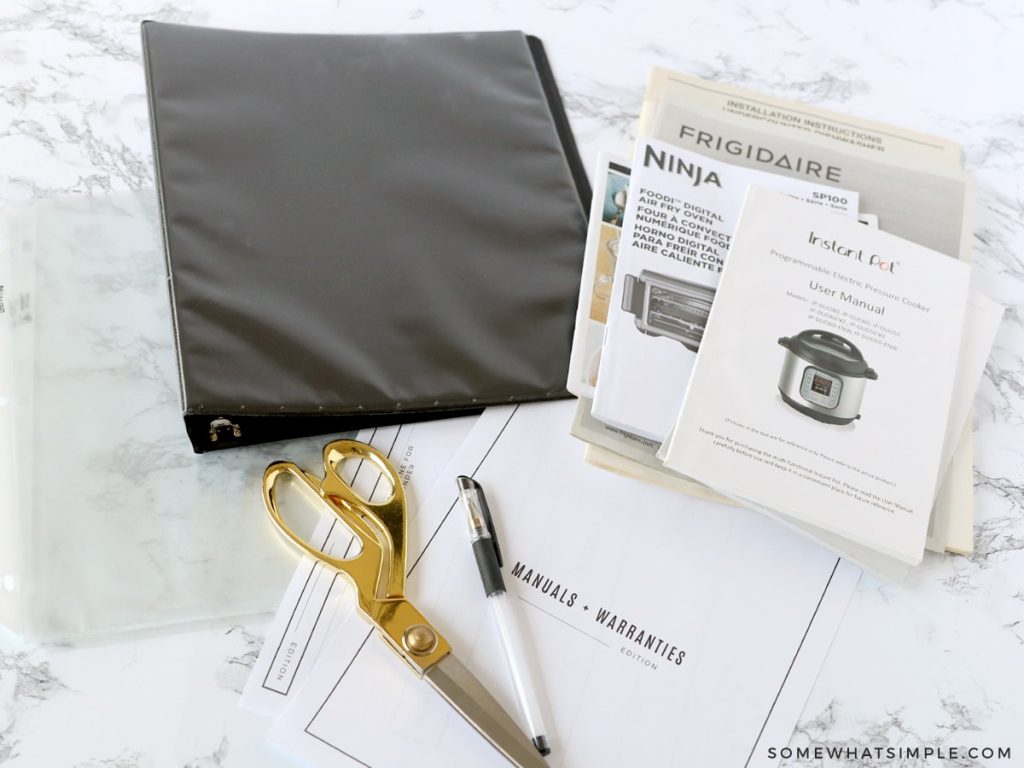 Manual and Warranty Organization
SUPPLIES –
3-Ring Binder – I prefer binders with a clear-view piece of plastic on the front so I can label them. If you have more pamphlets than will fit in one binder, use multiple binders and sort your pamphlets into groups –

group them by room (kitchen, garage, office, etc.)
group them by type (appliances, electronics & toys, furniture, etc.)

Pen + Scissors – to write and cut out the labels for your binder(s)
Plastic Sheet Protectors
Binder Pencil Pouch – to hold special tools or pieces you might want to hang onto
Sticky Notes, optional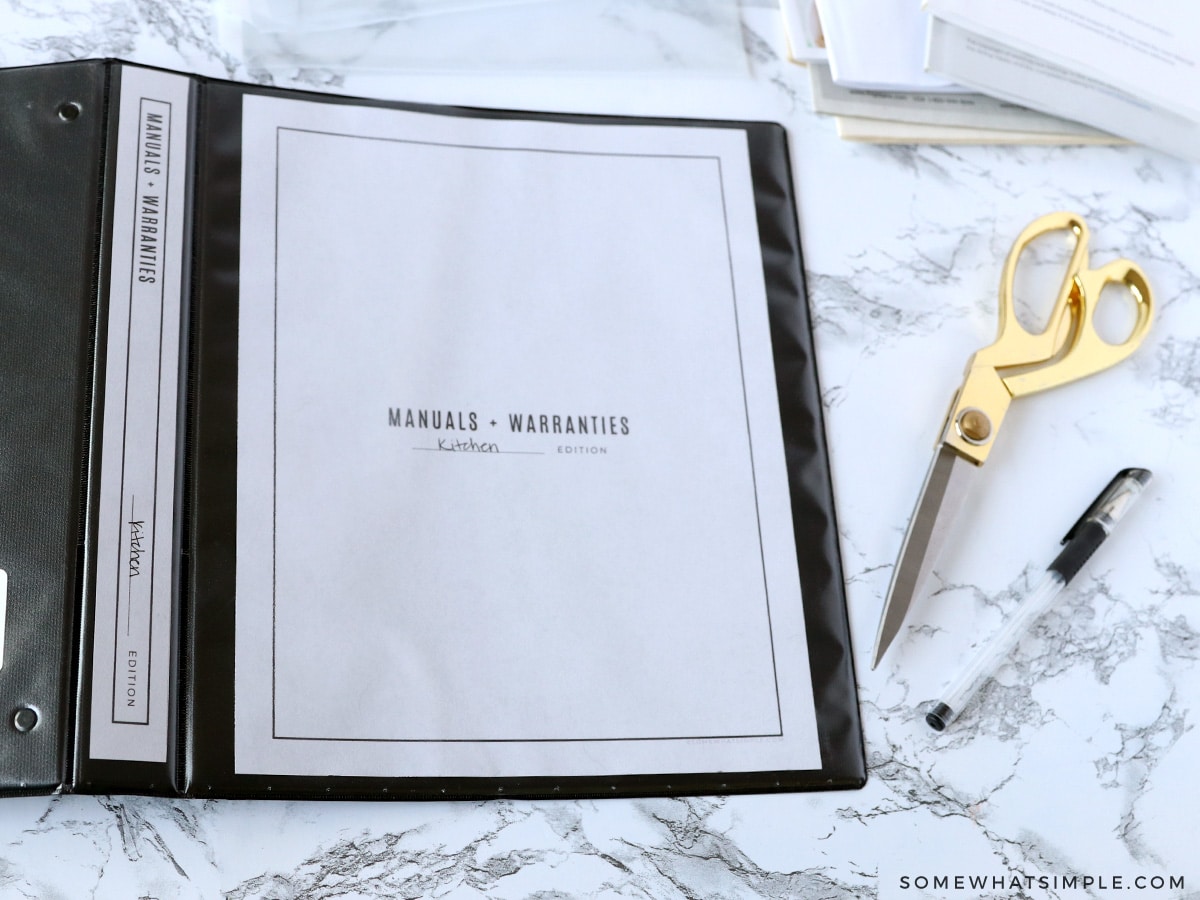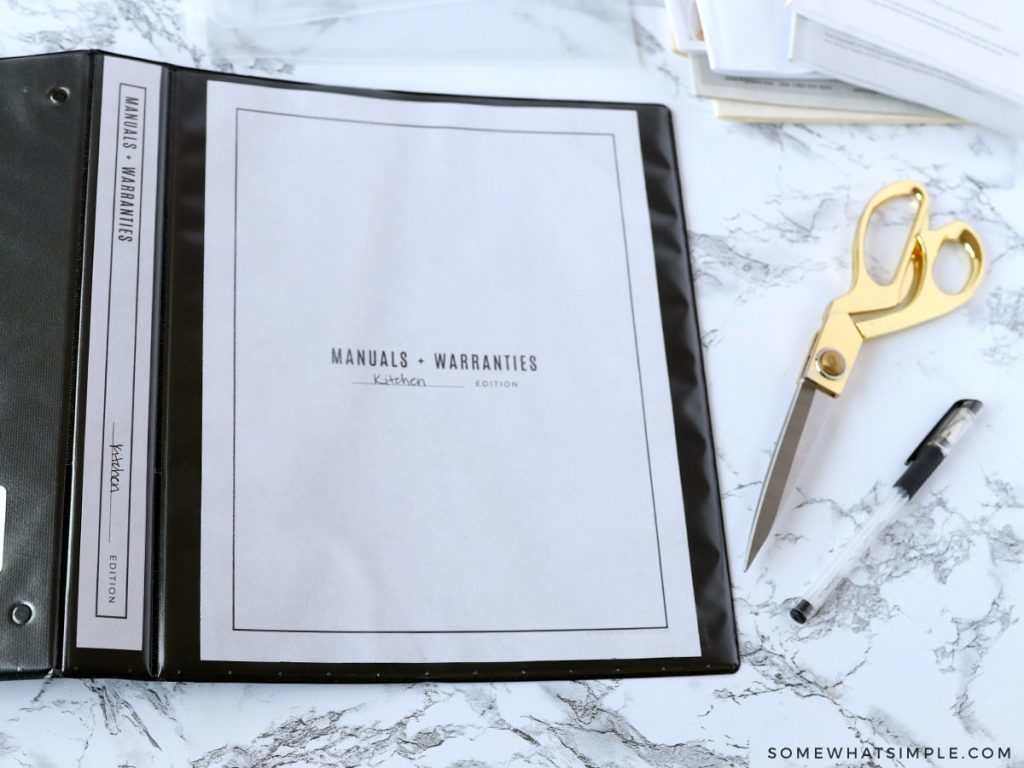 DIRECTIONS –
Download and print the binder labels (linked below). Cut out the cover + spine so it fits inside your binder, then label it and put it inside the clear view plastic on the front and side.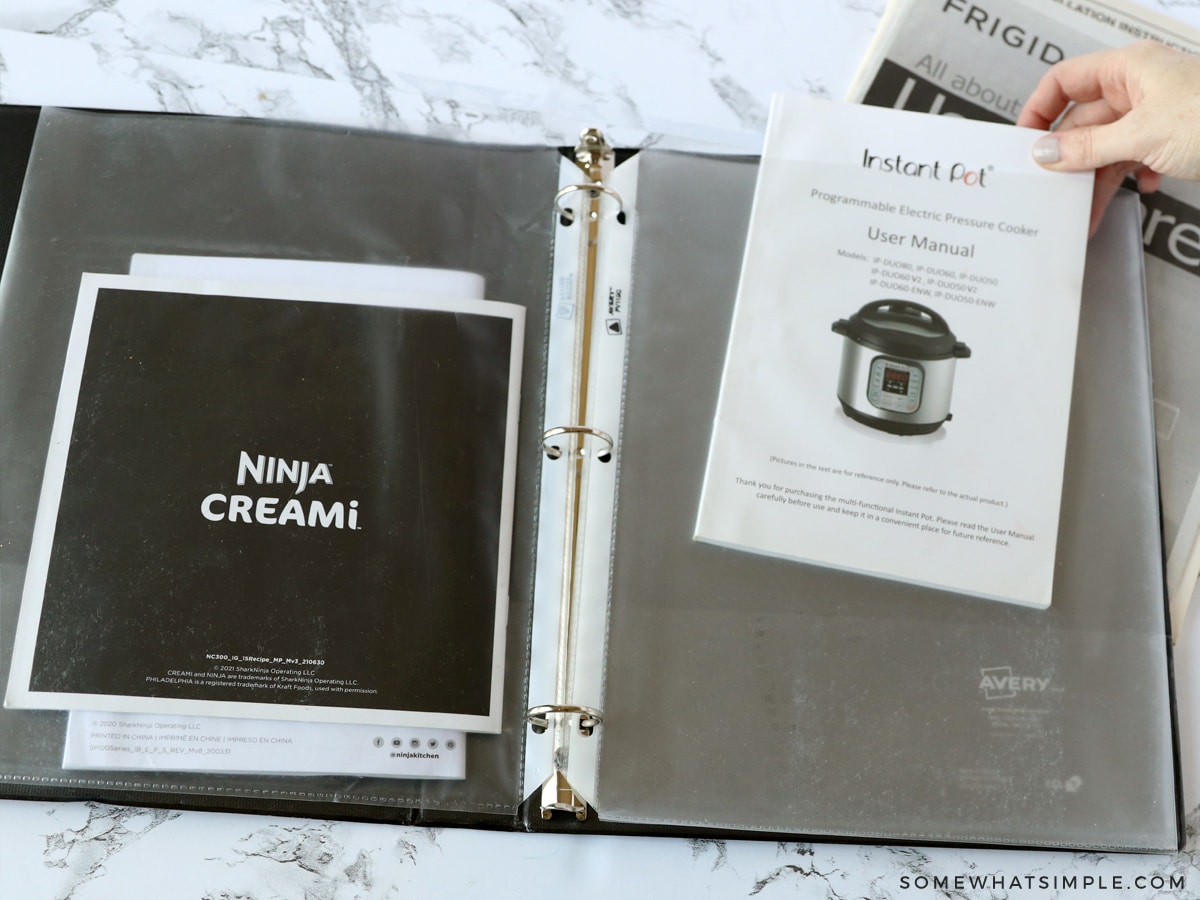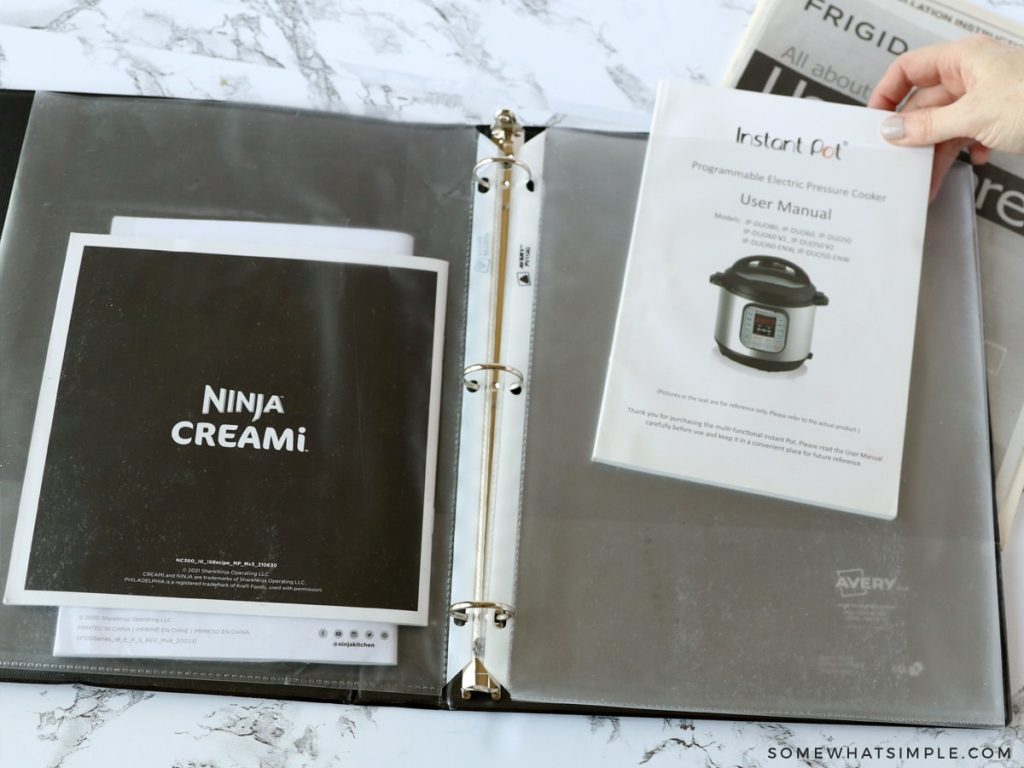 Put your plastic sheet protectors inside your binder, then place each manual/warranty into a sheet protector.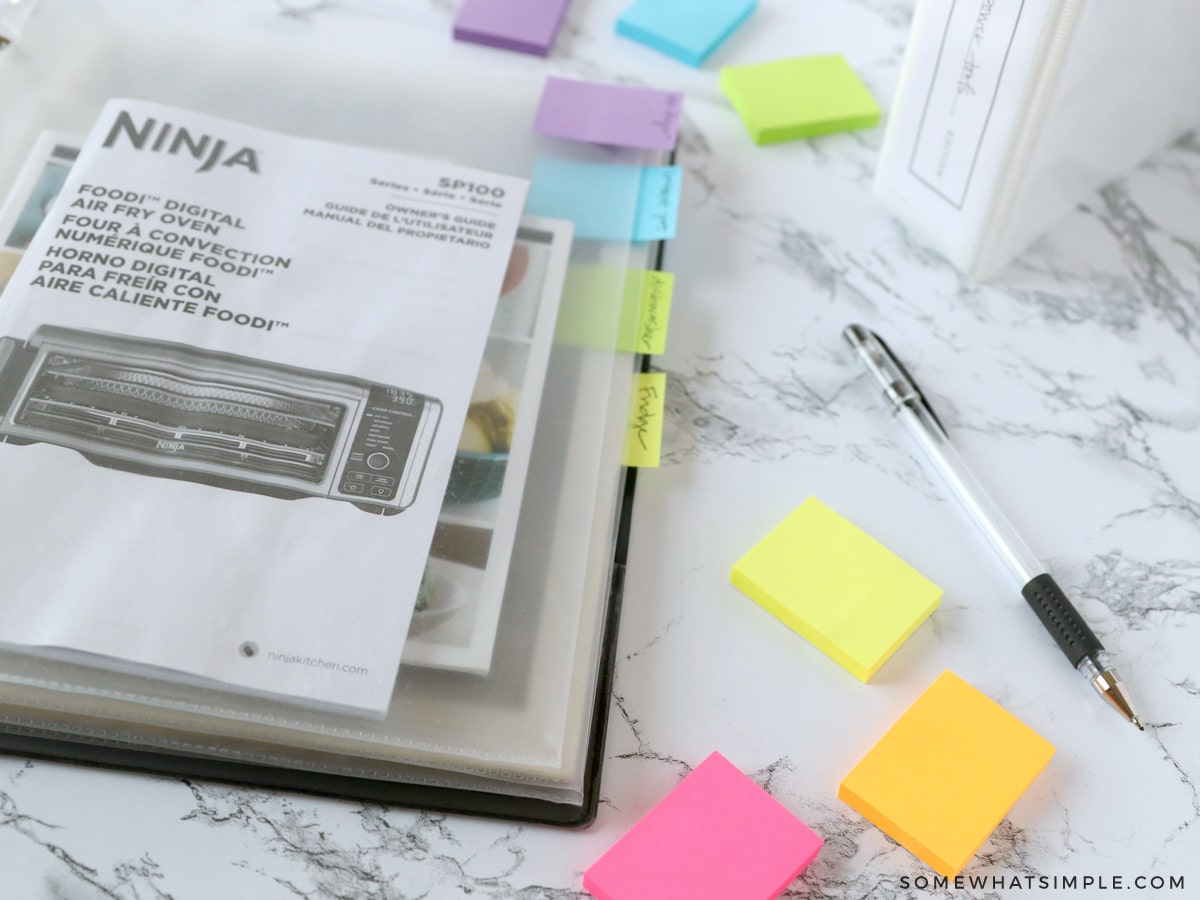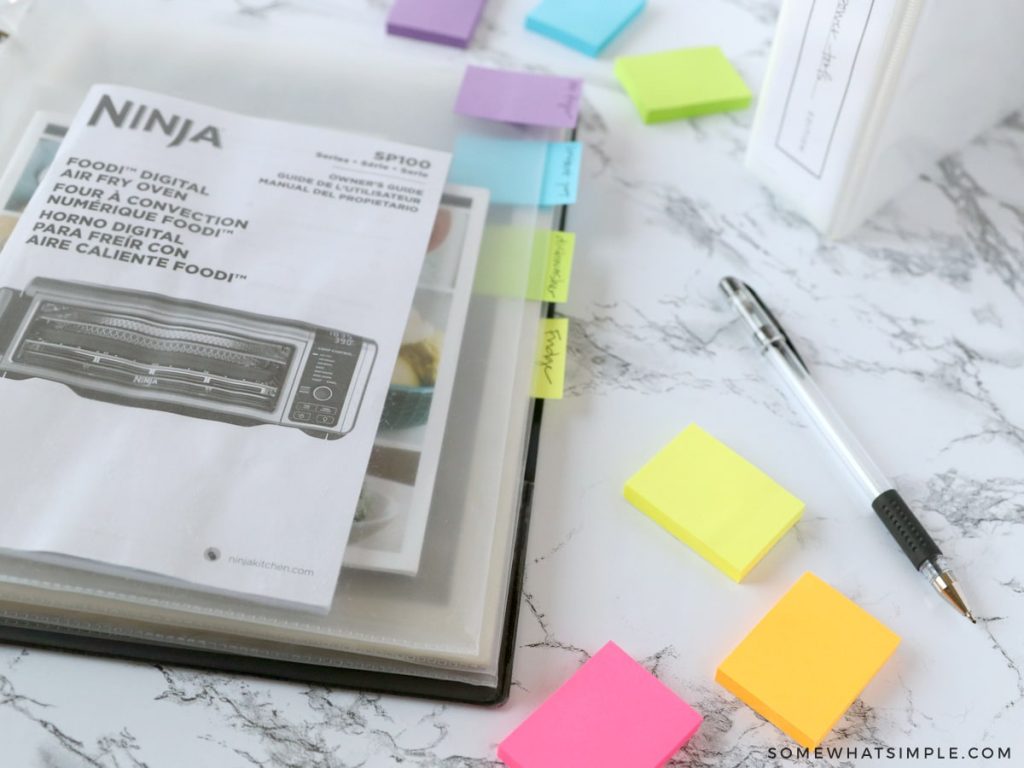 You can add sticky notes to the side of each plastic sheet protector if you'd like labeled tabs.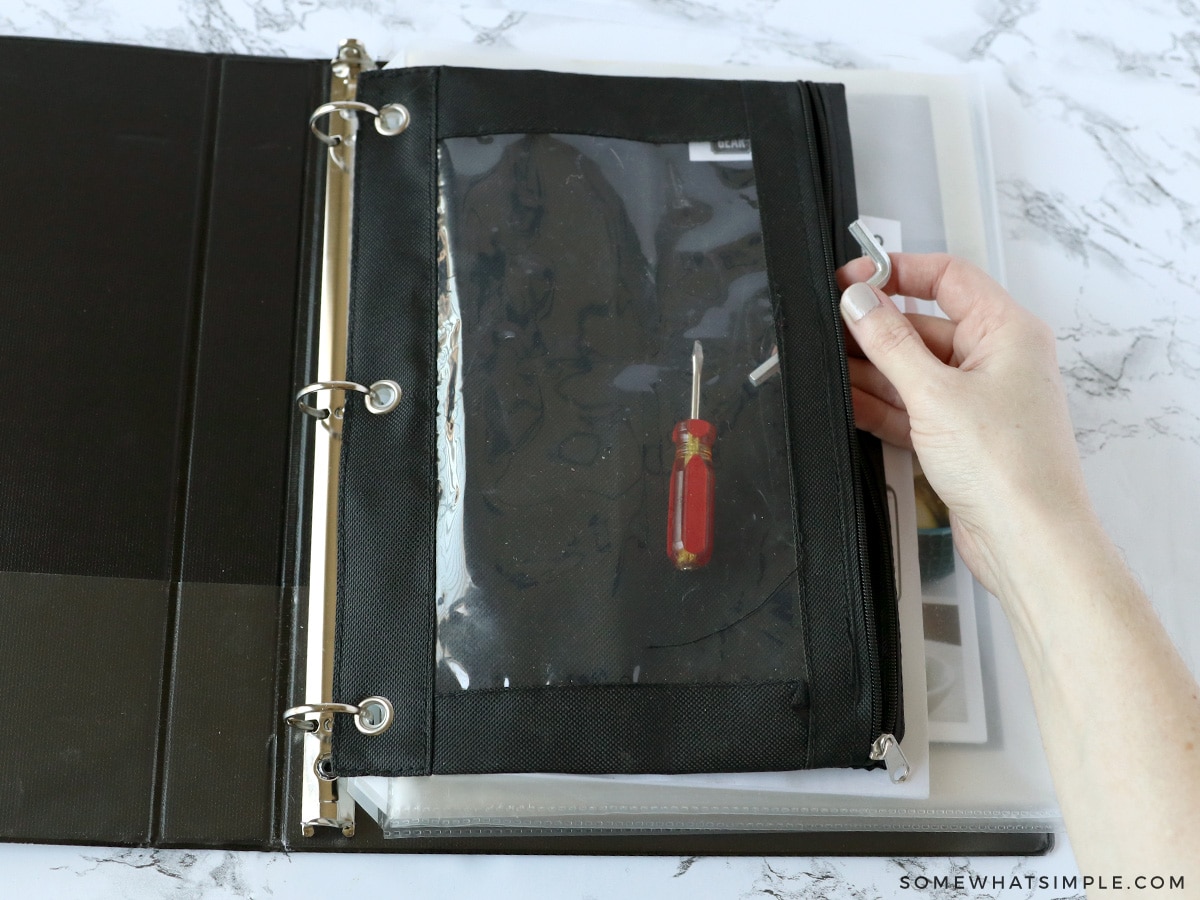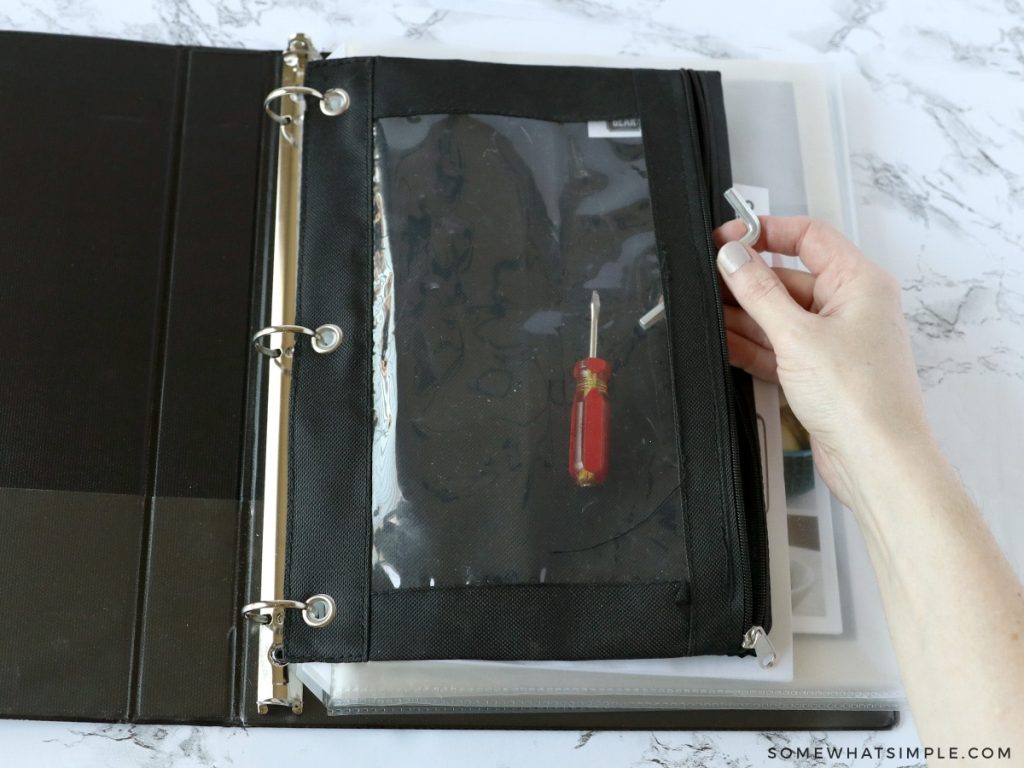 Add your pencil holder to the front and place any special tools or hardware you need to keep handy.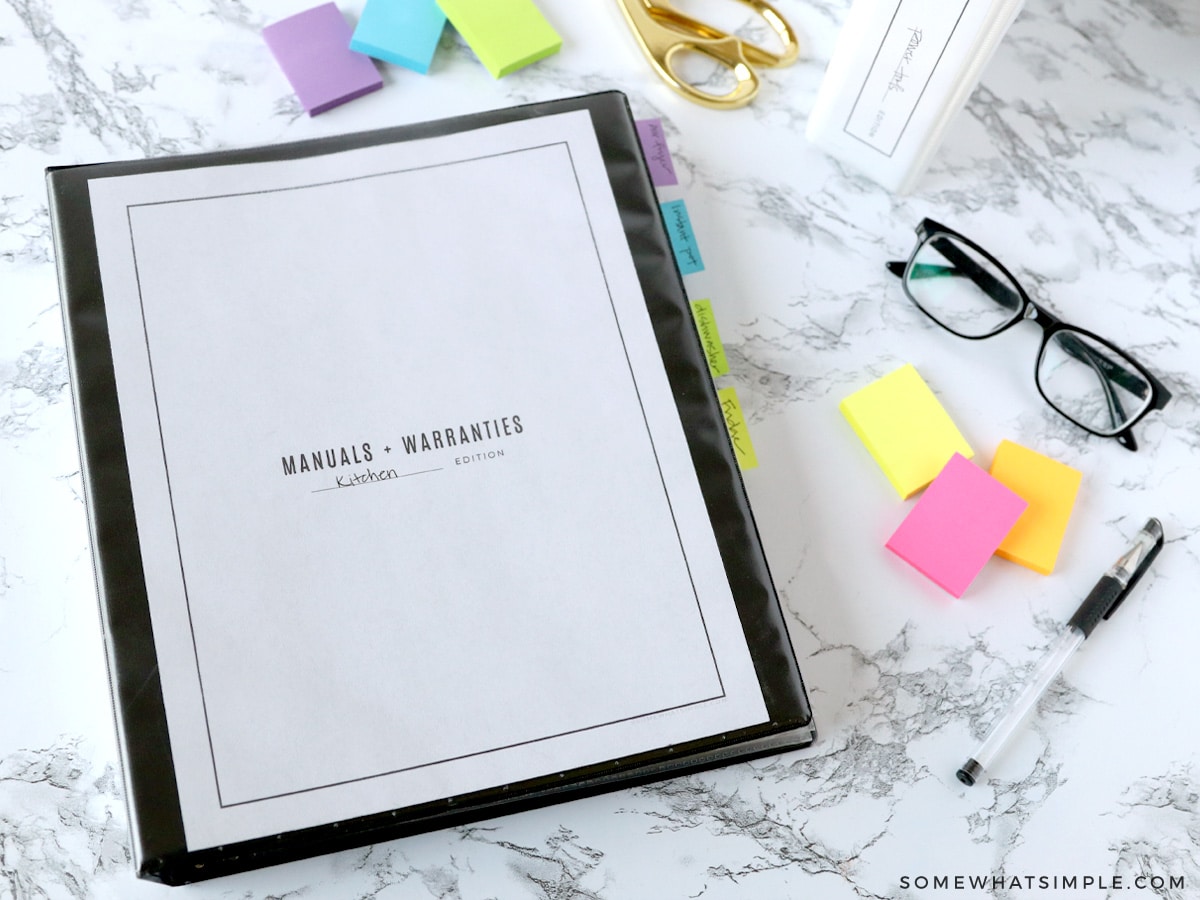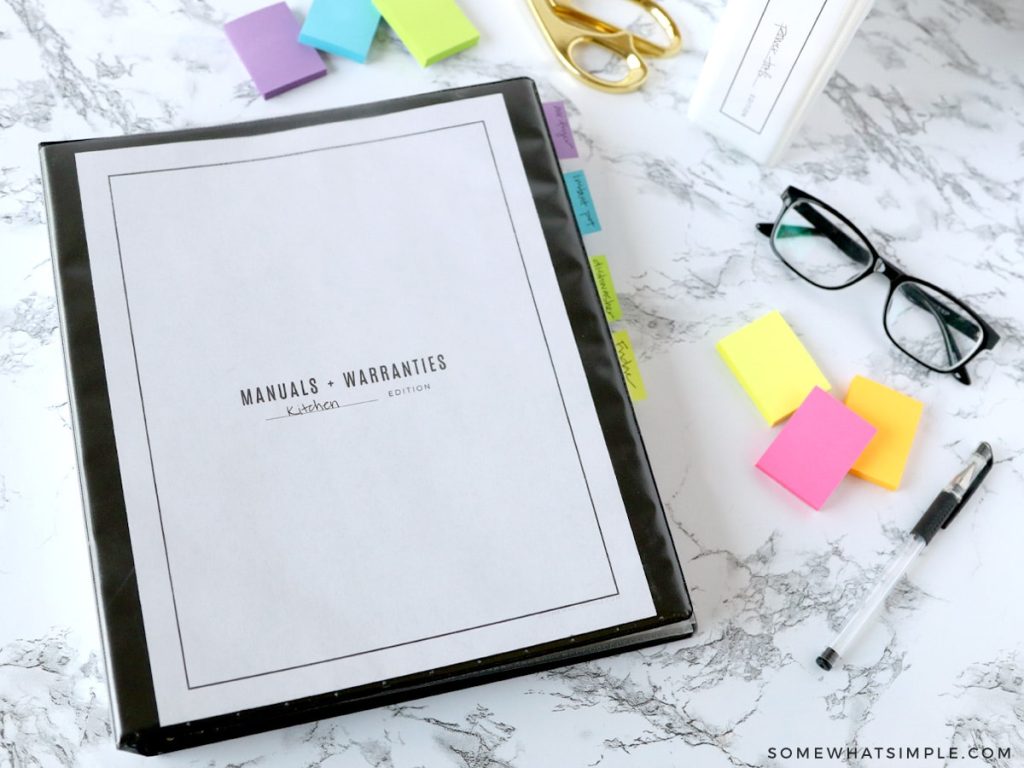 Once you're done, place your binder(s) on a shelf in your office, kitchen, garage, or storage closet.
… and that's it! Isn't this such a great method???
Manual and Warranty Binder Printables
If you'd like to use our labels, enter your name and email address in the form below. A new window will immediately pop up with the file. If you have a pop-up or ad blocker, this might interfere. Email me if you have issues – steph (at) somewhatsimple (dot) com
Have fun organizing your manuals and warranties!