Printable To-Do List Free Download
A simple printable to-do list that will help keep you organized and on-task! Download it for free and start feeling productive today!
Here are a few more productivity printables you might find helpful – New Years Resolution Printables, Stairway Basket, Touch-Up Paint Kit Labels, and Printable Project Checklist.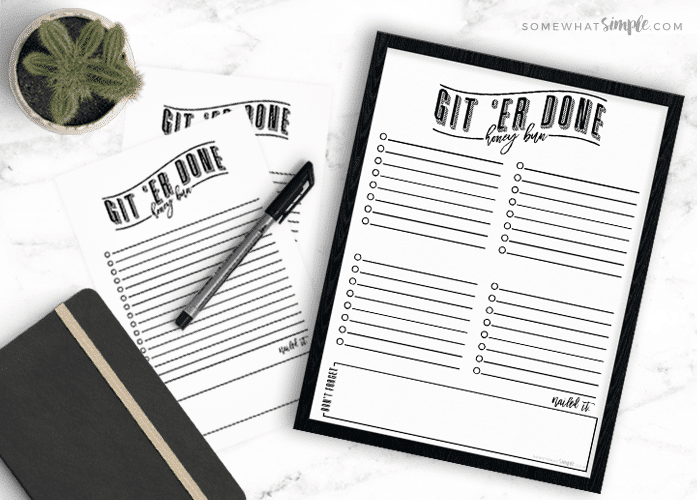 Keeping a To-Do List
I love to have a running to-do list – something I can use to write things down and check them off. It's a great way of keeping track of how productive I've been. Plus, let's be honest, if I don't write it down, I just might forget about it!
Having a to-do prompts me to actually get stuff done. When I can see all my tasks I'm able to prioritize them by importance and stay productive throughout the day.
Why Keep a To-Do List?
Checking off items gives you a sense of completion and satisfaction
Stop wasting time trying to remember what you were going to do – be more productive!
No losing focus – at a glance know what comes next
Other family members can see what needs to be completed and contribute
Brain dump – keep your mind free by writing down your mental lists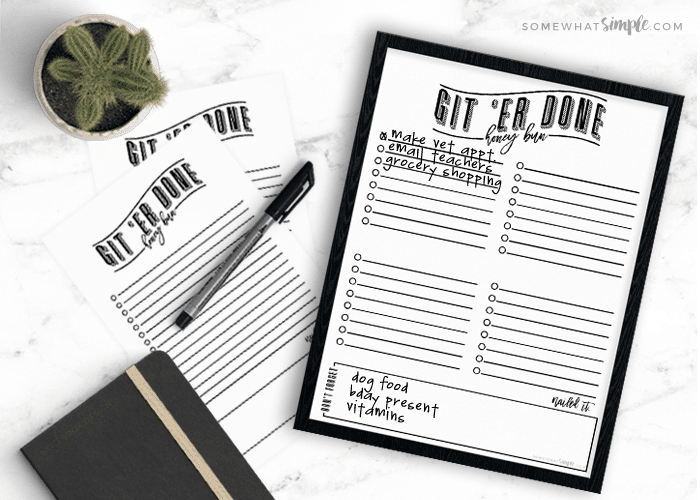 Git 'er Done To-Do List
You could definitely use a notebook, whiteboard, or calendar for your To-Do list, OR you can grab our free printable!
We've got 2 different sizes for you! Each design can be printed at home on 8.5×11 paper. You can pick which one works best for your lifestyle!
Option One takes up a full page. We made this one so be printed and framed then reused over and over with a dry-erase marker to write on the glass!
Option Two has 2 smaller lists on each page. This one is more traditional and can be printed each time you want a new list.
Free Printable To-Do List
Enter your name and email address in the form below for immediate access to this printable –